How to install ASAP Utilities
First time installation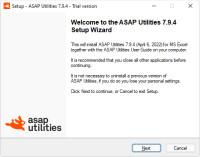 Installation is as easy as to follow the steps presented to you when you run the ASAP Utilities setup. During the setup you can specify the location where you want to install the files. ASAP Utilities does not require your computer to restart at the end of the installation.
Upgrading
Upgrading to the latest version is simple, just install the latest version over your existing version. Do not uninstall ASAP Utilities before installing the new version, otherwise you will lose information such as your favorites menu and license key.
System Requirements
ASAP Utilities works with all Excel versions for Windows, from the old Excel 2000 till the latest version of Excel 2021/365, both the 32- and 64-bit editions.
Basically if you have any of these Excel versions then you can run ASAP Utilities too, no matter what Windows version or network you have.
Detailed ASAP Utilities system requirements
Network installation, detailed extensive information
Detailed information about network installations is documented in chapter 3 of the ASAP Utilities User Guide. Here is also documented what changes ASAP Utilities makes to the registry and where it stores its settings.