Toon de werkbalken voor een stroomdiagram
English (us) ⁄ Nederlands ⁄ Deutsch ⁄ Español ⁄ Français ⁄ Português do Brasil ⁄ Italiano ⁄ Русский ⁄ 中文(简体) ⁄ 日本語
Deze tool zal zowel de werkbalk voor een stroomdiagram als die voor verbindingslijnen tonen als aparte werkbalken.

Wanneer u aan een stroomdiagram werkt kunt u de tools hiervoor selecteren via de "Tekenen" werkbalk.
Helaas kost het meerdere stappen. Om iets te tekenen moet u eerst op de "AutoVormen" knop in de "Tekenen" werkbalk klikken, dan kiest u voor "Verbindingslijnen" of "Stroomdiagram" en vervolgens kunt u kiezen wat u wilt tekenen.

Door de tools voor een stroomdiagram in aparte werkbalken te tonen kunt u uzelf een aantal klikken besparen. Het maken van een stroomdiagram wordt zo gemakkelijker en gaat een stuk sneller.

Opmerking:
Deze tool werkt niet in Excel 2007 (of nieuwer) omdat Microsoft de werkbalken heeft verwijderd in die Excel versie.
Indien u Excel 2007 of nieuwer gebruikt kunt u in het menu (lint) kiezen voor 'Invoegen' > 'Vormen' om een stroomdiagram te tekenen.
Indien gewenst kunt u deze Vormen-groep aan uw Werkbalk voor snelle toegang door er met de rechter muisknop op te klikken.
Screenshots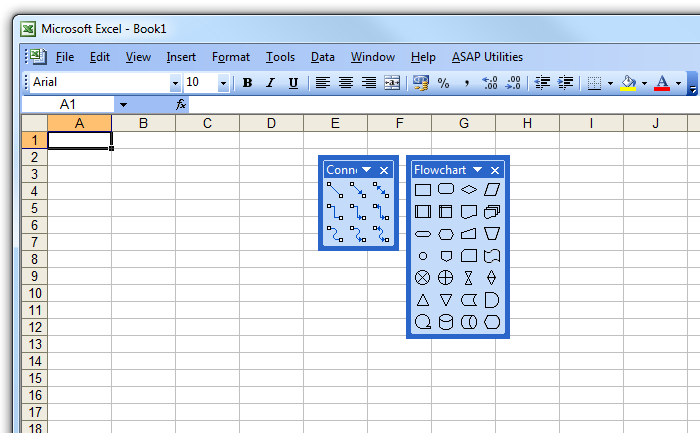 Deze tool starten