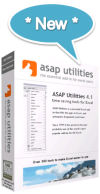 Today I have released the new version of ASAP Utilities.
This new version is improved in severals ways.
I would like to thank everybody for their feedback the past months!
» What's new
» Versions History
» Download
I have changed the version number from 4.1 to 4.2 because the ASAP Utilities menu is now nicely integrated into the Excel 2007 menu (ribbon).

Printer friendly version
Filed under: ASAP Utilities on September 25th, 2007 by Bastien | Comments Off on New version released: ASAP Utilities 4.2