The following video will demonstrate you
extract hyperlinks from cells in Excel by using ASAP Utilities
.
The example in the video show a list of websites that I copied from my links-page. There is no easy way in Excel itself to get the hyperlinks from the cells. That's why I built such a functionality into ASAP Utilities.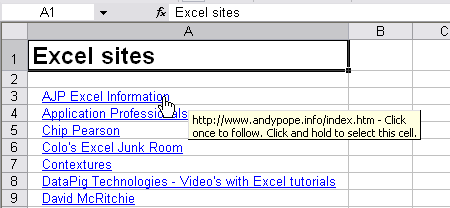 First select the cells and then in the Excel menu choose ASAP Utilities » Web » Extract hyperlinks...
Besides this utility, you can also use the worksheet function =ASAPGetHyperlink() to retreive the link addresses.

Printer friendly version
Filed under: ASAP Utilities, how to with ASAP Utilities, Video on October 10th, 2007 by Bastien | 1 Comment »