Save time in Excel with ASAP Utilities
"The most popular add-in for Excel users"
ASAP Utilities is a friendly Excel add-in that saves our users a lot of valueable time.
The many well-thought-out and useful tools make your work in Excel much easier and faster. With great enthusiasm, and for over 20 years already, our team ensures that ASAP Utilities is continuously evolving to help our users. It is truly one of the world's most popular add-ins for Excel.
The latest version, ASAP Utilities 7.9.4, was released on April 6, 2022.
Our mission is to put a smile on the face of Excel users all over the world, by providing a friendly and easy to use add-in, that saves time and speeds up their work in Excel.

Trusted daily by over 23,000 organizations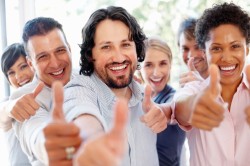 We love our work, are friendly and helpful and that shows in the quality of our product and customer service. We strongly believe in long-term solutions and relationships.
ASAP Utilities is used nowadays by over 750,000+ users and 23,500+ organizations worldwide.
You can read real and honest reviews on Trustpilot.