For your information, next Tuesday the first Service Pack for Office 2007 will be released.
Service Pack 1 for the 2007 Microsoft Office system will be available for download on December 11th. We will be sharing more details at that time, but the improvements are focused on stability, performance and security.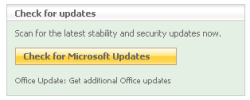 I'm very curious if the people from Microsoft stay focusing on bugs and security holes only or if they also do something with all the suggestions and complaints in the various newsgroups and weblogs.
Source:
http://blogs.msdn.com/inside_office_online/archive/2007/12/05/office-2007-service-pack-1-coming-next-week.aspx
Office Download page:
http://office.microsoft.com/en-us/downloads/FX101321101033.aspx

Printer friendly version
Filed under: Excel 2007 info on December 6th, 2007 by Bastien | 1 Comment »