Last week version 4.2.2. was released. Unfortunately this version contains a few bugs. I have
solved these
and a new version will be released soon.
The most annoying bug is in the utility "Range » Find / Replace in all sheets...". When you pressed the "Find all" button you immediately got Error 401: Application-defined or object-defined error which makes the utility unusable.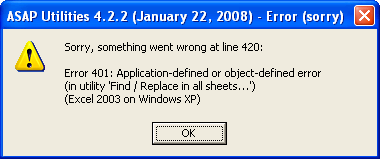 You can download a pre-release of version 4.2.3 where these bugs are fixed.

Printer friendly version
Filed under: ASAP Utilities on January 31st, 2008 by Bastien | 4 Comments »