I got the following question from Jonathan this week:
...
Don't know if this can be done at the moment, perhaps you could advise...

I have a range of cells and I want to select ALL the cells/rows in the selection where the value changes. I can select the first cell where the value changes using 'Select Cells' (3) then 'Select cells in range where value changes' (11) but want it to do a bit more.

I will then insert blank rows where the value changes.

Hope you can help. Keep up the good work.
...
Inserting a blank row after the value changes can be done with the following utility (which I have always found it difficult to use a good name for): Format » Detect and visualize adjacent data/group changes
Select the column with the values/titles that change at some point and then start the following utility:
ASAP Utilities » Format » Detect and visualize adjacent data/group changes
Then choose "empty row" and press the "start" button: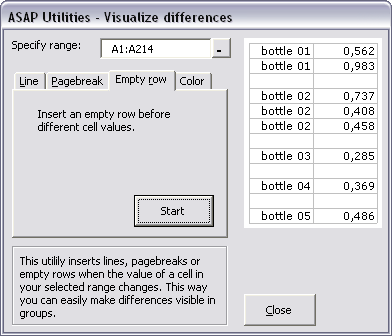 Printer friendly version
Filed under: ASAP Utilities on October 30th, 2008 by Bastien | 3 Comments »