Save 5 minutes a day by using the "Select » Deselect cells..." tool:
Quickly deselect cells from a selected range
With: ASAP Utilities » Select » Deselect cells...
You can quickly deselect cells from a selected range, something that is normally not possible in Excel.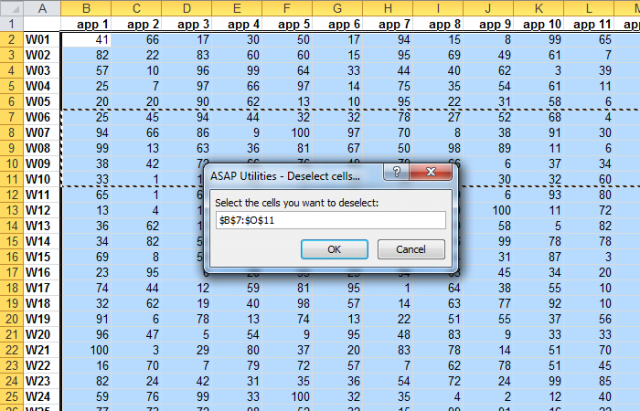 Do you recognize this?
"If I select rows 1, 2, 6, 10 and 18 then I do this by holding down CTRL and selecting these rows. Now, if I need to go back and deselect row 2, I cannot do it without starting over."
"When selecting a number of non-consecutive cells by using the mouse and the CTRL key, I quite often get to the 14th or 15th cell and then click on a wrong cell. Is there a way of de-selecting the last cell without deselecting all the other previous cells and starting again?"
Background information
In general in Windows programs, you can select multiple items by using the mouse or by keyboard and holding the Control of Shift key.
To deselect one or more of the selected items, you just click on them again while holding the Ctrl key and they are excluded from your selection/unselected.
Unfortunately the 'deselect'-part does not work in Excel when selecting cells; If you've accidentally included a wrong cell in your selection, you would have to start your selection process all over again. This can be a frustration and time consuming process.
Excel does not allow you to remove cells from your selection. At least not without using a macro or an add-in such as ASAP Utilities.
We've found this so frustrating that we've added the deselect tool to ASAP Utilities already in December 1999.
Solution
Just choose the following tool in the Excel menu and then select the cells to deselect:
ASAP Utilities » Select » Deselect cells... or use the shortcut Control+Alt+d
Bonus tip
Often you don't need to select cells by hand, you can use:
ASAP Utilities » Select » Select cells based on content, formatting and more...
How much time will it save?
It's guaranteed that you'll save yourself time and effort by using this tool. However, the actual time saved depends on much you use Excel, the amount of data you're working with and how often you use this particular tool.
You can easily see how much time ASAP Utilities has saved you so far.
Download
In case you don't have ASAP Utilities yet, you can download the free Home&Student edition (for personal use, students and charitable organizations) or the fully functional 90-day business trial from:
//www.asap-utilities.com/download-asap-utilities.php

Printer friendly version
Filed under: ASAP Utilities, how to with ASAP Utilities, save 5 more minutes a day on October 30th, 2012 by Bastien | 1 Comment »