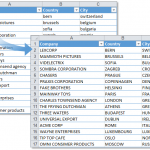 If you type a portion of your data in the wrong case, then you won't have to retype it.
If you received a workbook from others that is in the wrong case, then please remember that there is a quick way to correct this.
Save 5 minutes a day by using ASAP Utilities to quickly change the text-case.
Your text quickly to uppercase, lowercase, etc.?
You can easily change the text-case in the selected cells with the following tools:
ASAP Utilities »
Just select the cells and then start one of the text-tools: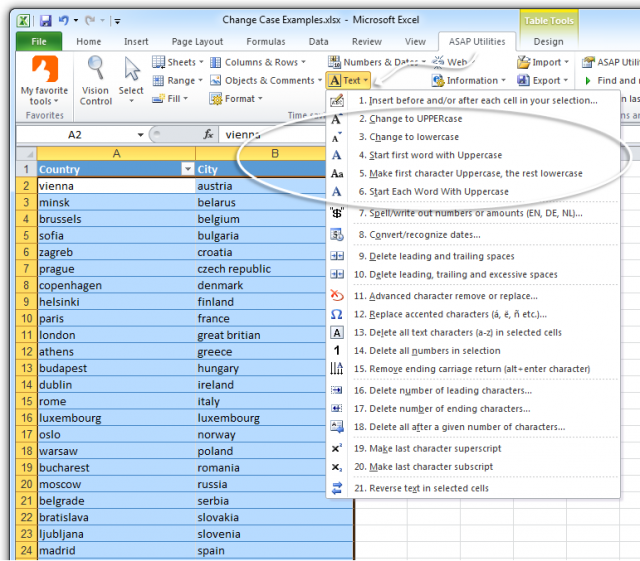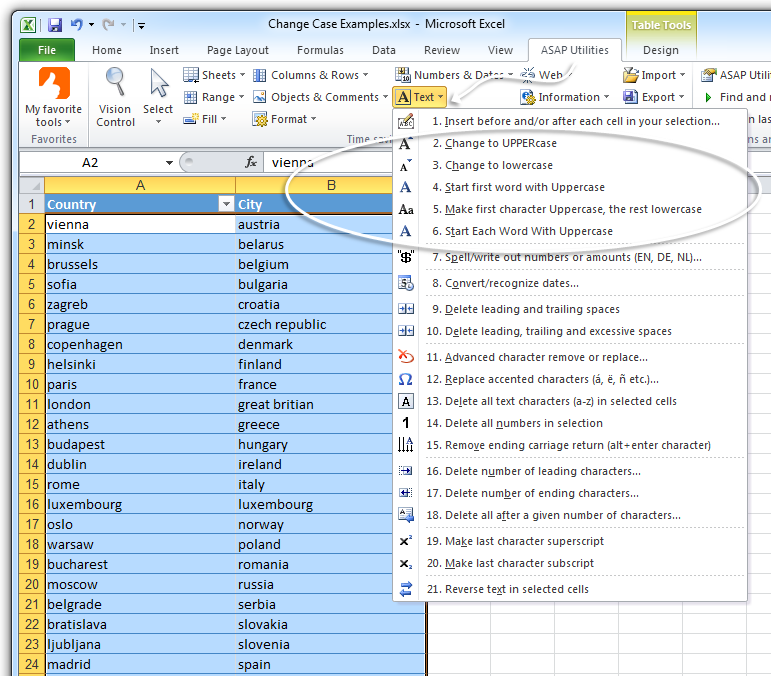 For example, quickly change the text in the selected cells to uppercase: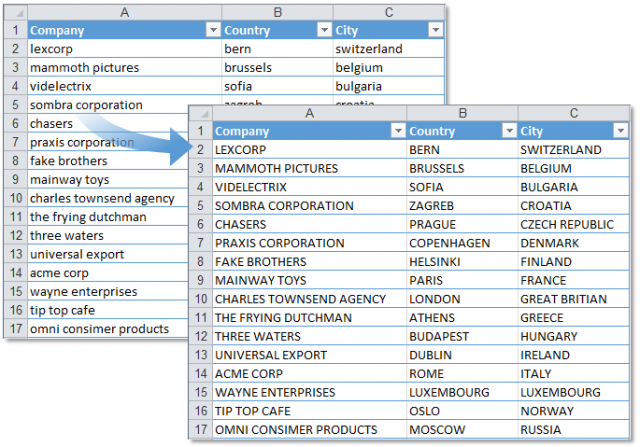 Just like in MS Word
In MS Word you can use the Shift+F3 key to change the case of the selected text.
But in Excel there is no such shortcut or option in the menu/ribbon (not even in the new Excel 2013. I don't know why Microsoft doesn't add it, many people have been asking for it. Even it's open source alternative, LibreOffice Calc has "Change Case" in its menu.)
The only way to change the case in Excel is to use an extra (helper) column with formulas and a copy/paste values or by using macros.
Fortunately you can also use an add-in such as ASAP Utilities to quickly change case. You can even assign your own shortcuts if you use the change case tools often.
Quick solution
Just select the cells and then choose one of the following tools in the Excel menu:
ASAP Utilities »
This is an easier and quicker alternative for the default method that Excel offers and Microsoft describes.
How much time will it save?
It's guaranteed that you'll save yourself time and effort by using this tool. However, the actual time saved depends on much you use Excel, the amount of data you're working with and how often you use this particular tool.
You can easily see how much time ASAP Utilities has saved you so far.
Download
In case you don't have ASAP Utilities yet, you can download the free Home&Student edition (for personal use, students and charitable organizations) or the fully functional 90-day business trial from:
//www.asap-utilities.com/download-asap-utilities.php

Printer friendly version
Filed under: ASAP Utilities, how to with ASAP Utilities, save 5 more minutes a day on November 27th, 2012 by Bastien | 3 Comments »