Save 5 minutes a day by using ASAP Utilities to create multiple backup-versions of your file.
"You can never have too many backups"
If you often work with large spreadsheets then you know how frustrating it can be to lose data because of a stupid mistake.
I like to have different versions of a file, so that I can go back to a previous version of the workbook if something goes terribly wrong.
With ASAP Utilities you can create as many backup copies as you want. A timestamp is added to the file name, so you can easily see what date and time the backup of your workbook was created.
You can easily save your workbook and automatically create a backup with the following tool:
ASAP Utilities » File & System » Save file and create backup or use the shortcut Control+Alt+S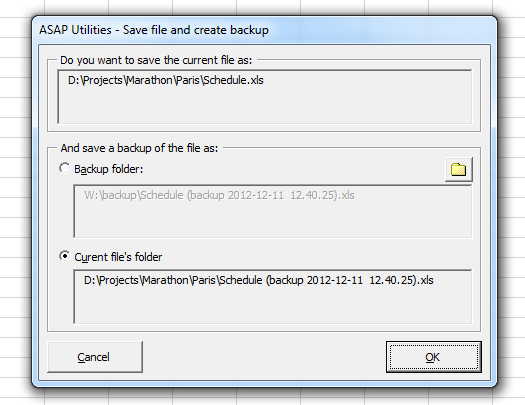 Quick solution
Just use the following tool: ASAP Utilities » File & System » Save file and create backup
The standard shortcut in Excel for saving your file is Control+S.
In ASAP Utilities we created the shortcut Control+Alt+S to save you file and create a backup. Just one key extra to press.
Compared to the default Excel backup-option
Creating multiple backup-versions is in my opinion a valuable addition to the default autosave option in MS Excel.
In Excel you can choose to always save a backup copy of your workbook. However, Excel uses only one single file for the backup and overwrites it every time. But is has the advantage/disadvantage that it works in the background and you don't have to remember creating the backup.
Excel 2010 and 2013 have an improved autosave and recovery but it is still limited.
How much time will it save?
It's guaranteed that you'll save yourself time and effort by using this tool when you need a previous version of your workbook. However, the actual time saved depends on much you use Excel, the amount of data you're working with and how often you use this particular tool.
You can easily see how much time ASAP Utilities has saved you so far.
Download
In case you don't have ASAP Utilities yet, you can download the free Home&Student edition (for home projects, schoolwork and use by charitable organizations) or the fully functional 90-day Business trial from:
//www.asap-utilities.com/download-asap-utilities.php

Printer friendly version
Filed under: ASAP Utilities, how to with ASAP Utilities, save 5 more minutes a day on December 11th, 2012 by Bastien | Comments Off on Tip: Save and create a timestamped backup