"Work 10 times faster"
I'm a huge fan of keyboard shortcuts.
Studies calculate that using keyboard shortcuts allows to work 10 times faster than working with the mouse. The time you spend looking for the mouse and then getting the cursor to the position you need is lost time! Reducing the working time by 10 brings you greater efficiency.
You can view or edit the shortcuts to start the tools from ASAP Utilities via:
ASAP Utilities » Favorites & Shortcuts » Organize your favorite tools...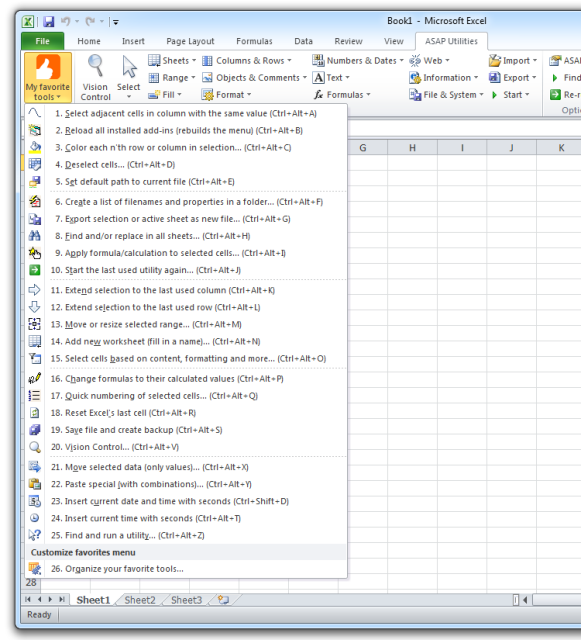 Keyboard shortcuts are useful for people with a wide range of disabilities, as well as anyone who wants to save time by combining key commands with mouse control.
Microsoft differentiates keyboard shortcuts from hotkeys (mnemonics) whereby the former consists of a specific key combination used to trigger an action, and the latter represents a designated letter in a menu command or toolbar button that when pressed together with the Alt key, activates such command.
ASAP Utilities uses both keyboard shortcuts and hotkeys.
Overview of Excel's keyboard shortcuts
References on why keyboard shortcuts are good for you
How much time will it save?
It's guaranteed that you'll save yourself time and effort by using shortcuts. However, the actual time saved depends on how much you use Excel and the shortcuts from either Excel or ASAP Utilities.
Extensive mouse usage is associated with RSI (Repetitive Syndrome Injury) much more often than the keyboard usage. By alternating mouse and keyboard usage you can reduce the risks of RSI.
Download ASAP Utilities
In case you don't have ASAP Utilities yet, you can download the free Home&Student edition (for home projects, schoolwork and use by charitable organizations) or the fully functional 90-day Business trial from:
//www.asap-utilities.com/download-asap-utilities.php

Printer friendly version
Filed under: ASAP Utilities, how to with ASAP Utilities, save 5 more minutes a day on January 1st, 2013 by Bastien | 1 Comment »