Save 5 minutes a day by using ASAP Utilities to quickly sort your sheets.
"Sort your sheet-tabs - the easy way"
If you have a lot of worksheets in a workbook then it is sometimes easier to have them in alphabetical order. However, Excel itself has no built-in option to sort sheets - not even the new Excel 2013. It can only be done by dragging and manually arranging the worksheets. But that can take a lot of time and isn't fun to do either.
Fortunately we've got a tool for this.
You can quickly sort your sheets with the following tool:
ASAP Utilities » Sheets » Sort all sheets...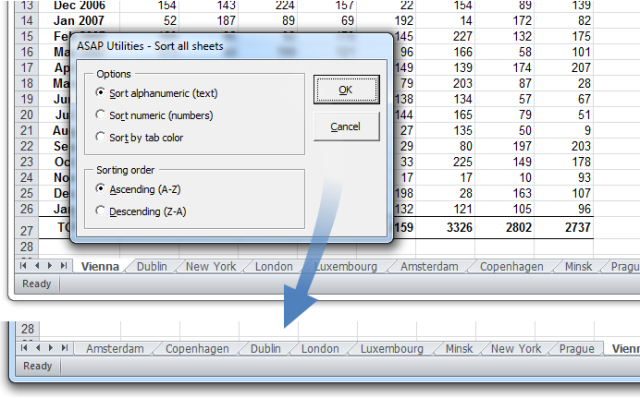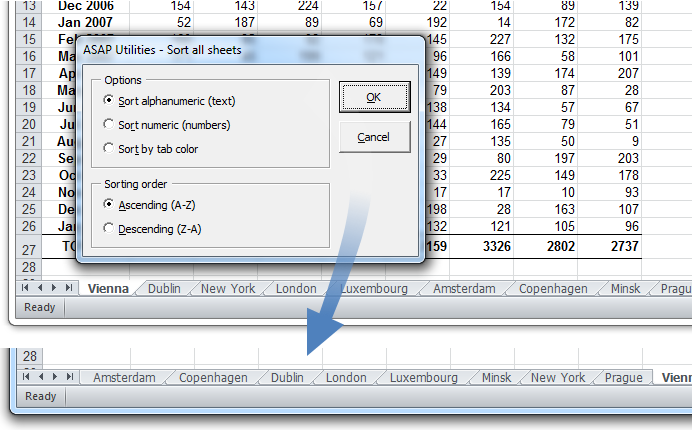 Do you recognize any of these situations?
I have an Excel worksheet with a sheet for each member of staff. How can I sort so that the sheets come up in alphabetical order?
Is it possible to sort all the worksheets in a work book and if so, how is it done?
How can you arrange the tabs on Microsoft Excel in alphabetical order?
I have a large list of clients. Their information is put in separate tabs in Excel. How can I arrange these tabs in alphabetical order without dragging around the tabs manually?
I have a barrow load of multiple worksheets, but now client wants them in a different order, is there, to save time, any way that Excel can re-sort them in Alphabetical order.
Quick solution
Just use the following tool
ASAP Utilities » Sheets » Sort all sheets...
This is a quicker solution than dragging the sheet-tabs around manually.
If you know how to use macros, then you can also use a macro from Microsoft.
How much time will it save?
It's guaranteed that you'll save yourself time and effort by using this tool. However, the actual time saved depends on how much you use Excel, the amount of sheets you're working with and how often you use this particular tool.
You can easily see how much time ASAP Utilities has saved you so far.
Download
In case you don't have ASAP Utilities yet, you can download the free Home&Student edition (for home projects, schoolwork and use by charitable organizations) or the fully functional 90-day Business trial.
Download page

Printer friendly version
Filed under: ASAP Utilities, how to with ASAP Utilities, save 5 more minutes a day on January 8th, 2013 by Bastien | Comments Off on Tip: Quickly sort your sheets by their value or tab-color