Save 5 minutes a day by using ASAP Utilities to quickly remove all the empty rows in your dataset.
"Easily delete all empty rows that are in between"
One of the most common tasks in Excel is deleting blank rows. Whatever type of data you may have in Excel, there are many occasions where you will also have a bunch of blank rows throughout your worksheet.
If you have thousands of rows, manually deleting the empty rows is a time consuming and boring process.
Excel uses blank rows to determine data ranges. For example when sorting or filtering data.
Instead of looking manually for rows that are completely empty and delete them, just let ASAP Utilities do this for you.
You can removes all completely empty rows on your worksheet with:
ASAP Utilities » Columns & Rows » Delete all empty rows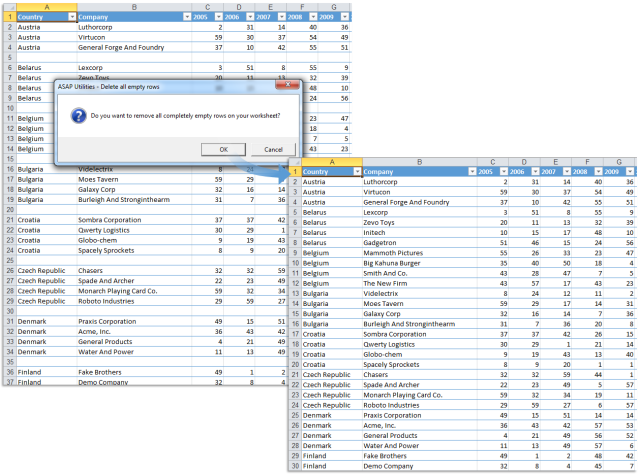 Do you recognize any of these situations?
How can I remove all blank rows in an easy way without having to remove each blank row manually?
When I want to remove blank rows of data, I just select the data and press the sort AZ button. However, this shifts my data "out of order". Is there another method? I want to keep the data in its original order.
I have a huge excel file (3 sheets, all filled to the 65535 row limit).
I need to remove all "blank" lines easily, but due to the nature of the data, I can't do a "sort" to bring all the blank lines to one location in the file. Is there an excel feature to do this, or a macro?
Just use the following tool:
ASAP Utilities » Columns & Rows » Delete all empty rows
Bonus tips, also interesting
How much time will it save?
It's guaranteed that you'll save yourself time and effort by using this tool. However, the actual time saved depends on how much you use Excel, the amount of data you're working with and how often you use this particular tool.
You can easily see how much time ASAP Utilities has saved you so far.
Download
In case you don't have ASAP Utilities yet, you can download the free Home&Student edition (for home projects, schoolwork and use by charitable organizations) or the fully functional 90-day Business trial.
Download page

Printer friendly version
Filed under: ASAP Utilities, how to with ASAP Utilities, save 5 more minutes a day on February 20th, 2013 by Bastien | Comments Off on Tip: Quickly remove blank rows from a long list