Save 5 minutes a day by using ASAP Utilities to automatically fit the row height on merged cells too.
Make the AutoFit Row Height work on merged cells
Strangely, when using the AutoFit feature in Excel it completely ignores merged cells.
In standard Excel, you cannot use the AutoFit feature on a row that contains a cell merged with cells in other columns or rows. When you use merged cells, you need to manually adjust the row height.
If you have thousands of rows, manually adjusting the row heights is a cumbersome task. Fortunately we've got a tool in ASAP Utilities that automatically does this for you.
You quickly auto fit the row height on all selected cells - including merged cells - with:
ASAP Utilities » Columns & Rows » Autofit row height (also on merged cells)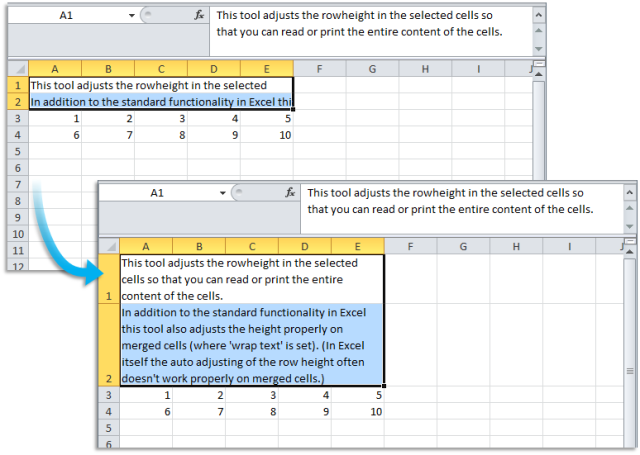 In addition to the standard functionality in Excel this tool also adjusts the height properly on merged cells (where 'wrap text' is set).
Do you recognize any of these situations?
When I merge cells and then choose the wrap text option the Autofit function no longer works. Is there a way to get around this without manually sizing the row each time?
I have a spreadsheet with merged columns (E-N), and also wrap text marked. The AutoFit Row Height does not apply and if you double click the row it defaults to 15. Each row, according to the data entered, is of various sizes. Is there a way to copy row heights or another way I can automatically adjust? I have over 200 rows I must adjust as each week as a new tab is created with some of the same plus added criteria. It is quite time consuming to manually adjust every row.
When a group of cells in a row are merged and the text wraps to two or more lines, double-clicking the row border just to the left of column A (or Format>Row>Autofit) auto-heights the row to one line of text. Either of these actions should heighten the row to fit the text in the merged cells. How can I fix this?
Just select the cells and then use the following tool:
ASAP Utilities » Columns & Rows » Autofit row height (also on merged cells)
This is so much quicker than manually investigating and adjusting each row as Microsoft describes on their website.
How much time will it save?
It's guaranteed that you'll save yourself time and effort by using this tool. However, the actual time saved depends on how much you use Excel, the amount of data you are working with and how often you use this particular tool.
You can easily see how much time ASAP Utilities has saved you so far.
Download
In case you don't have ASAP Utilities yet, you can download the free Home&Student edition (for home projects, schoolwork and use by charitable organizations) or the fully functional 90-day Business trial.
Download page

Printer friendly version
Filed under: ASAP Utilities, how to with ASAP Utilities, save 5 more minutes a day on March 5th, 2013 by Bastien | Comments Off on Tip: 'AutoFit Row Height' on merged cells too