Save 5 minutes a day by using ASAP Utilities to sort your cells on bold, italic, color, font, etc., etc..
"Sort by bold, italic, color, font, month, etc., etc."
You can easily sort your data on all kinds of characteristics with:
ASAP Utilities » Range » Advanced sorting...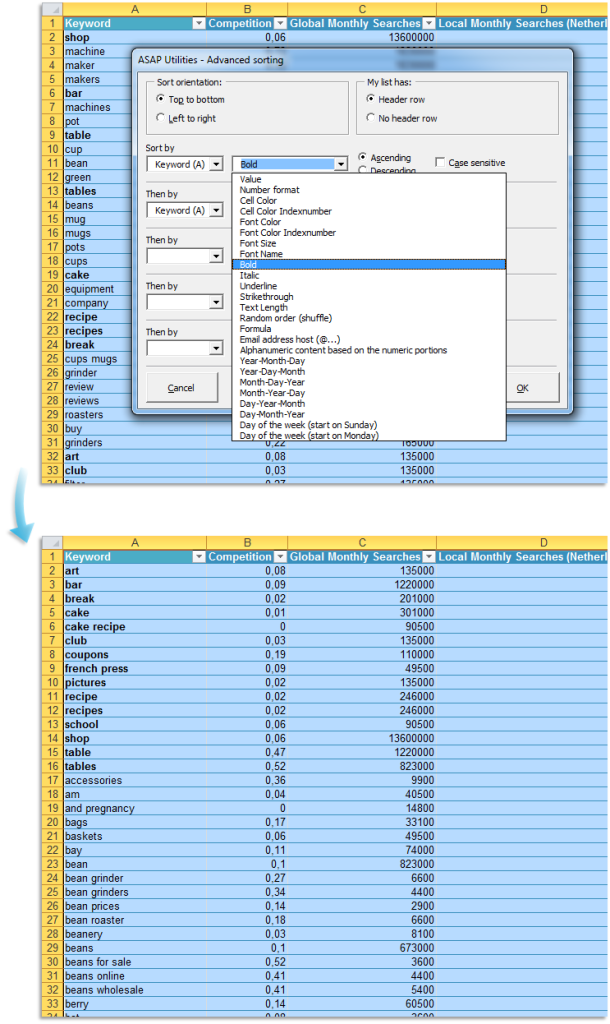 With this utility you can sort by:
Value
Number format
Cell Color
Cell Color Indexnumber
Font Color
Font Color Indexnumber
Font Size
Font Name
Bold
Italic

Underline

Strikethrough Strikethrough
Text Length
Random order (shuffle)
Formula
Email address host (@...)
Alphanumeric content based on the numeric portions
Year-Month-Day
Year-Day-Month
Month-Day-Year
Month-Year-Day
Day-Year-Month
Day-Month-Year
Day of the week (start on Sunday)
Day of the week (start on Monday)
Do you recognize any of these situations?
We still have Excel 2003 here at work. How can I sort cells by color?
Can I sort by bold and italic in Excel?
I need to sort by cells that are bold. Does anybody know a way I can do this?
Is there an easy way to sort a column's values by text length?
I'm using Office 2010 and can sort by colour but I cannot find any option for italics or bold.
How can I sort by birthday calendar by month and day and ignore the year?
I want to create several teams with different people on each team. I want there to be no particular order to the way I sort the teams and I want excel to do this for me. Any suggestions?
Just select the cells and then use the following tool:
ASAP Utilities » Range » Advanced sorting...
This give you more sort options than Microsoft offers by default.
Note: In Excel 2007 Microsoft has added the ability to sort by color in addition to just the values.
Bonus tips, also interesting
How much time will it save?
It's guaranteed that you'll save yourself time and effort by using this tool. However, the actual time saved depends on how much you use Excel, the amount of data you are working with and how often you use this particular tool.
You can easily see how much time ASAP Utilities has saved you so far.
Download
In case you don't have ASAP Utilities yet, you can download the free Home&Student edition (for home projects, schoolwork and use by charitable organizations) or the fully functional 90-day Business trial.
Download page

Printer friendly version
Filed under: ASAP Utilities, how to with ASAP Utilities, save 5 more minutes a day on April 23rd, 2013 by Bastien | Comments Off on Tip: Sort your data on anything that you can think of