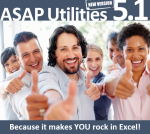 The new and improved version of ASAP Utilities has just been released! Based on the feedback we received, we've added many improvements to make your work in Excel easier, faster and more fun. Newsletter, see what's new http://www.asap-utilities.com/newsletter-2014-01.php Download the new version 5.1 You can download this new version from: http://www.asap-utilities.com/download.php If you have a […]
Posted on January 29th, 2014 by Bastien
Filed under: ASAP Utilities | Comments Off on New ASAP Utilities 5.1 just released!