This blog will be used to post frequently about Excel tools, code snippets. As the author of ASAP Utilities I get a lot of questions by email. Most questions are the same and repeated over and over again. I'll use this blog to answer to the most general Excel questions including questions on ASAP Utilities.
Beside that I want to share a bit more of my knowledge and experiences.
Something short about me, my work, my passions.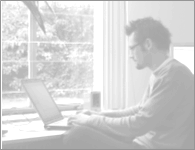 My name is Bastien Mensink. I live in the Netherlands, together with the love of my life, Monique and our son Melle. Mountainbiking is a great passion of mine (and a good way to hide my nerd-image) furthermore I also like geocaching, photography, hiking and listening to good music.
The first time I started using spreadsheets was in 1994 during my education (environmental engineering). Almost immediately I was addicted. They made my calculations so much easier and visually attractive.
After a few years of Lotus 123 and Quattro Pro I started working with Excel in 1997, mainly modeling and enhancing and automating reports. My background/education is environmental engineering and I worked in this area about 5 years. In 2000 I started my own company, eGate Internet Solutions (dutch). We mostly perform online marketing for websites (e.g. optimizing performance in search engines like Google) and create custom Excel tools and automate reporting.
In 2007 I started the company A Must in Every Office BV, with the main purpose to further develop, professionalize and promote ASAP Utilities and make Excel easier to use.
In 2008 we have also spent a lot of time and effort to make ASAP Utilities ready for other languages. Starting from 2009 ASAP Utilities is also available in Dutch and in September 2009 the German language was added. In November Spanish was added and in December the French language. By adding more languages we believe that much more people can benefit from ASAP Utilities and make their life in Excel easier. In 2010 A Must in Every Office moved to its own office.
My motto:
Enjoy every moment of your life, respect your environment and make yourself useful.

Printer friendly version