Just got a question from Denice, US:
Is there a way ASAP can take one worksheet and make multiple copies of it. I formatted one sheet and would like to make a lot of copies at once without doing the right click add or make copy.
Does it already do this and I missed it. Or can you add that to the next version?
I love the add-in tremendously!!!!

Here's the way to do it.
You have the sheet you want to have copied, say Sheet A.
Now create a new worksheet and type in the names for the new sheets you want to have. (for example 1 to 10). (you can use the ASAP Utilities » Fill » Quicknumber... utility for this)
Then select those cells and in the menu choose:
ASAP Utilities » Sheets » Add sheets (with the names defined in selected cells)...
Now select Sheet A to use as a template and press "ok"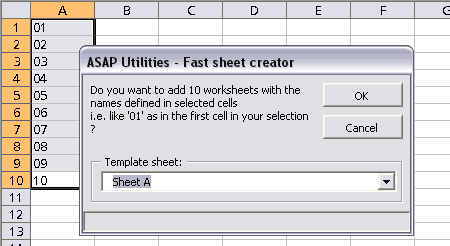 Ten copies of your sheet wil be made:


I've originally developed this utility when I needed to setup workbooks to register working hours and have a worksheet for every week number.
Alternatively the ASAP Utilities » Format » Copy a sheet's page and print settings... might also be useful when dealing with a large amount of the same worksheets.

Printer friendly version
Filed under: ASAP Utilities on December 1st, 2005 by Bastien | 13 Comments »