Recently I have been receiving a few emails about people telling me that their Excel 2007 would startup very slowly with ASAP Utilities installed. The delay also occurred without ASAP Utilities if they click on an Excel file from within the Explorer:
If I click on an xls file Excel opens with a blank window which delays...
If I then click to minimize the Excel window, it then immediately re-opens with xls file
You can test if the speed-delay is caused by ASAP Utilities by temporary turning it off (and on):
//www.asap-utilities.com/asap-utilities-uninstall-remove.php#temporary_disable
In general, the delay can be caused by a virus scanner. I know that Norton Antivirus checks every file you open in Excel first, this also includes add-ins. The speed is slower if ASAP Utilities is loaded from a network connection.
I have Excel XP on my laptop with Norton Antivirus. ASAP Utilities is installed on my hard disk and with ASAP Utilities installed it takes Excel about 2 to 3 seconds extra to start. On my computer with Excel 2003 this delay is about the same. On my computer with Windows Vista and Excel 2007, Excel starts up in a few seconds whether I start from scratch or start Excel by double-click on a file in windows explorer.
I do find however that the Adobe PDF add-in causes an extra delay of nearly 10 seconds.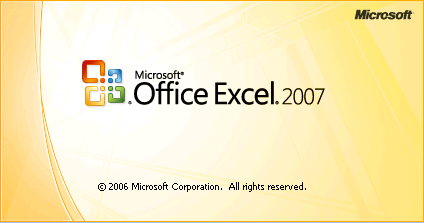 Fixing Excel 2007 slow startup problems
On some computer Excel 2007 starts up very slowly. So far it has only been reported to me in combination with Windows XP.
There are a few reasons that I've seen so far that cause this:
- The Adobe PDF maker add-in is slow.
- The add-in autodesk Vault is logging into the network, which causes a delay.
- Problems in the Windows Explorer settings (see below)
Martin von Gagern has written a possible solution for the problem.
http://martin.von-gagern.net/howtos/excel2007load
Martin von Gagern: At least on Windows XP the problem can be solved as described below:
1. Application Explorer
2. Menu Tools
3. Menu item Folder Options
4. Tab File Types
5. List item XLS
6. Button Advanced
7. List item Open
8. Button Edit...
In the dialog box that appears you need to make two adjustments:
Application to perform action:
- At the end of the line after /e append a space character followed by "%1" (including the quotes)
DDE Application Not Running:
- Insert new text: [rem see command line] (including the brackets)
Source: http://martin.von-gagern.net/howtos/excel2007load
http://groups.google.com/group/microsoft.public.excel.misc/browse_thread/thread/bfb35ac24358e6b7
These are the settings on my 2007 test-system that work correct: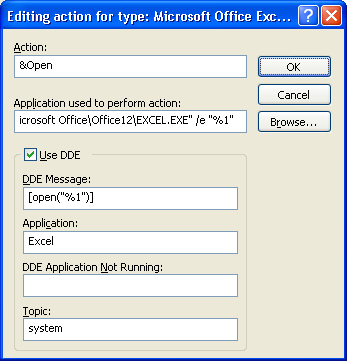 There are a lot of posts about a slow Excel 2007 in the newsgroups:
http://groups.google.com/groups?as_q=excel+2007+slow&num=100&scoring=r
Improving the performance in Excel 2007
Charles Williams has written a great article about improving the performance in Excel 2007
http://msdn2.microsoft.com/en-us/library/aa730921.aspx

Printer friendly version
Filed under: ASAP Utilities, Excel 2007 info, General on July 9th, 2007 by Bastien | 61 Comments »