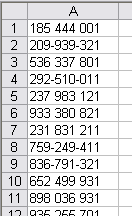 I got a question from Ryan:
I have a bunch of excel cells and I need them all to have no spaces and no dashes so the first one would be: 185444001 and so on. How can I use ASAP Utilities to remove all spaces and dashes?
You can do this very quick with the following utility:
ASAP Utilities » Text » Advanced character removal/replace...
Select the cells
Start the utility ASAP Utilities » Text » Advanced character removal/replace...
Click on the "All" button
Click on the "1,2,3" button
This way all characters, except the numbers, will be removed in the selected cells.
Make sure the 'Replace characters with' box is empty.
Press the OK button


Printer friendly version
Filed under: ASAP Utilities, how to with ASAP Utilities on February 10th, 2009 by Bastien | Comments Off on How to: Remove all spaces, dashes and other garbage from numbers