Save 5 minutes a day by quickly starting the last tool again that you used from ASAP Utilities.
"Easily start again the tool you just used"
Sometimes you need to use a tool several times in sequence. Instead of having to go through the (sub)menus to find and start the tool again, we've created a shortcut for you.
To quickly re-start the last used tool, you can simply press the button "start last tool again" or use the shortcut Control+Alt+J.
ASAP Utilities » Start last used tool again...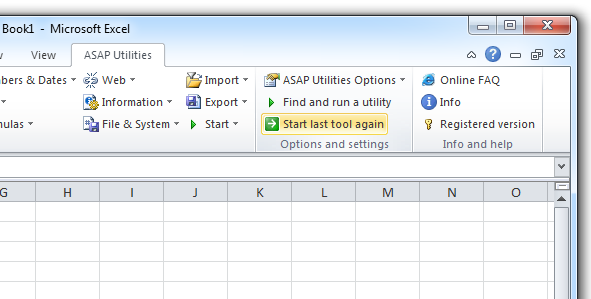 In Excel 2003, 2002/XP and Excel 2000 the shortcut is the same, but you can find the button in the menu in:
ASAP Utilities » ASAP Utilities Options » Start the last used utility again...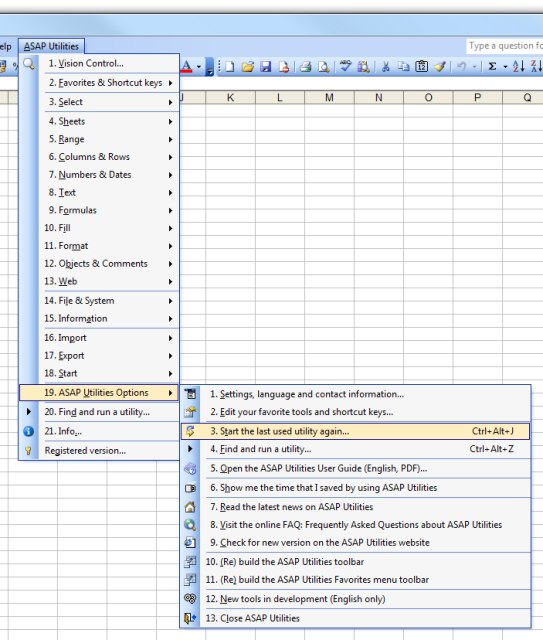 Bonus tips, also interesting
How much time will it save?
It's guaranteed that you'll save yourself time and effort by using this tool. However, the actual time saved depends on how much you use Excel and ASAP Utilities.
You can easily see how much time ASAP Utilities has saved you so far.
Download
In case you don't have ASAP Utilities yet, you can download the free Home&Student edition (for home projects, schoolwork and use by charitable organizations) or the fully functional 90-day Business trial.
Download page

Printer friendly version
Filed under: ASAP Utilities, how to with ASAP Utilities, save 5 more minutes a day on May 17th, 2013 by Bastien | 1 Comment »