Save 5 minutes a day by using ASAP Utilities to easily test how your workbook looks with other display settings.
"Easily see how your template/model looks to other users"
When you develop a template, you'll have to keep in mind that the information that you can see on screen, isn't always what other users see. Some information might not fit in their Excel window and users then need to scroll to see it.
Often the people that develop templates have large high-resolution monitors with display resolutions such as 1920x1200 or higher. If a user use a smaller resolution, for example 1366x768 pixels, then information might be displayed outside the visible area of the screen.
To quickly test how your model or template will look on computers with different screen resolutions, you can use:
ASAP Utilities » File & System » Resize the Excel window to standard screen resolutions...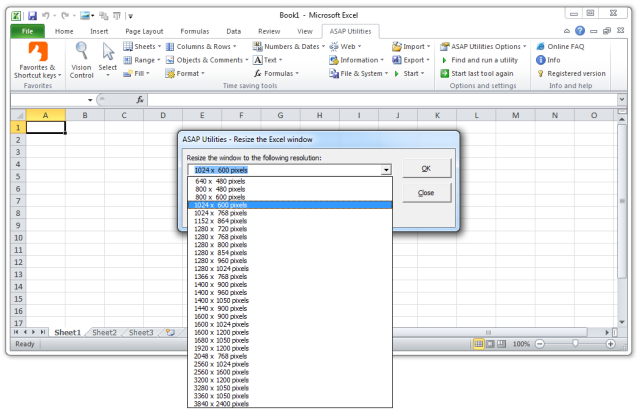 The following table shows the top 10 screen resolutions of the visitors of our ASAP Utilities website the past 6 months: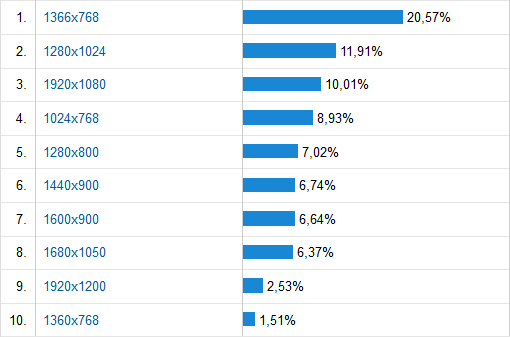 Do you recognize any of these situations?
I have created a workbook/worksheets using a monitor with 1920 x 1080 resolution. My worksheets were developed to perfectly fit the screen. But when someone else uses it they may not have this resolution but perhaps 1024 x 768 and then a part of the worksheet is outside of the screen. How can I easily test this?
I have many different users for one of my workbooks. Some forms are too large for the users screen. Is there a way I can quickly test how it looks/fits on other screens?
Just use the following tool to help you with this:
ASAP Utilities » File & System » Resize the Excel window to standard screen resolutions...
Bonus tips, also interesting
How much time will it save?
It's guaranteed that you'll save yourself time and effort by using this tool. However, the actual time saved depends on how much you use Excel, the amount of workbooks you are working with and how often you use this particular tool.
You can easily see how much time ASAP Utilities has saved you so far.
Download
In case you don't have ASAP Utilities yet, you can download the free Home&Student edition (for home projects, schoolwork and use by charitable organizations) or the fully functional 90-day Business trial.
Download page

Printer friendly version
Filed under: ASAP Utilities, how to with ASAP Utilities, save 5 more minutes a day on May 31st, 2013 by Bastien | Comments Off on Tip: Test your model/template in different screen resolutions