[last updated: April 23, 2020]
Introduction
The past years we have received several support requests that we found out were related to/caused by (often already fixed) bugs in Excel 2019/2016/365.
This article shows information on how to update your Excel installation and also contains links to the Microsoft articles with all the detailed information about what has been fixed and improved by the Excel team.
How an error or crash in Excel may appear to be caused by ASAP Utilities, but is not
Unfortunately, several bugs were introduced in Excel 2016/365 and Excel's VBA/macro language that could cause slow performance and crashes in Excel (1, 2, 3, 4, 5, 6, 7).
Since many users don't use macros themselves, they may only experience such specific Excel bugs (slow speed/crashes) when they use an add-in, such as for example ASAP Utilities, that uses Excel's built-in VBA/macro programming language for its tools and it then seems as if the add-in is faulty. In general, if something goes wrong in ASAP Utilities, you should get a polite error message. It should never make Excel crash.
Most of the times updating Excel will solve it already. If a fix isn't available yet from Microsoft, then we try to create a workaround in ASAP Utilities to handle such Excel bugs, because we do not always know how long it will take the Excel team to fix it.
Fortunately Microsoft has already released many updates with fixes related to the performance and stability of Excel 2019/2016/365.
How to install Excel/Office updates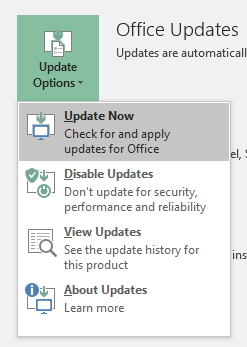 To update Excel/Office to the latest version available:
Start Excel.
Go to File > Account
Under Product Information, choose Update Options > Update Now.
Source:
https://support.office.com/en-us/article/Install-Office-updates-2ab296f3-7f03-43a2-8e50-46de917611c5
List of the latest Office Updates
Information on (only) the last Office Updates from Microsoft for Office 2019, Office 2016, Office 2013, Office 2010 and Office 2007 can be found here:
https://docs.microsoft.com/en-us/officeupdates/update-history-office-2019
https://support.office.com/en-us/article/Office-Updates-a118ec61-f007-492f-bfa5-5a6f764d5471
Office 365 client update channel releases

On the following page you can see the most recent changes the the Office 365 products. It shows even the recent ones that don't have their own update article yet on the Microsoft Support website. You can choose to only see the updates that impact Excel.
https://technet.microsoft.com/en-us/office/mt465751
https://support.office.com/en-us/article/Version-and-build-numbers-of-update-channel-releases-ae942449-1fca-4484-898b-a933ea23def7
Issues in Excel that Microsoft is aware of - with status updates
Known issues and possible fixes or workarounds from Microsoft Office Support is listed here:
https://support.office.com/en-us/article/Fixes-or-workarounds-for-recent-issues-in-Excel-for-Windows-49d932ce-0240-49cf-94df-1587d9d97093
Excel 365/2019/2016 Update History
Because there doesn't seem to be a simple page where you can see all the updates/fixes related to Excel, we've created a list with the links to the official articles from Microsoft here. (somehow they keep naming the latest perpetual version of Excel, Excel 2016 and not Excel 2019 in their documents)
Several of the fixes from Microsoft were related to the performance and/or crashes of Excel.
Description of the security update for Office 2016: April 14, 2020
https://support.microsoft.com/en-us/help/4484214/security-update-for-office-2016-april-14-2020

Description of the security update for Office 2016: April 14, 2020
The security update addresses the vulnerability by correcting how Microsoft Excel handles objects in memory.
https://support.microsoft.com/en-us/help/4484258/security-update-for-office-2016-april-14-2020

Description of the security update for Office 2016: April 14, 2020
This security update contains a fix for the following nonsecurity issue:
- An application crashes when using Open Database Connectivity (ODBC) APIs to use multiple connections with a Microsoft Access or Excel Driver.
https://support.microsoft.com/en-us/help/4484287/security-update-for-office-2016-april-14-2020

Description of the security update for Excel 2016: April 14, 2020
https://support.microsoft.com/en-us/help/4484273/security-update-for-excel-2016-april-14-2020

April 7, 2020, update for Office 2016 (KB4484106)
https://support.microsoft.com/en-us/help/4484106/april-7-2020-update-for-office-2016-kb4484106

March 10, 2020, update for Excel 2016 (KB4011130)
This update fixes the following issue:
- Data in cells isn't read by the Windows Narrator screen reader.
https://support.microsoft.com/en-us/help/4011130/march-10-2020-update-for-excel-2016-kb4011130
March 3, 2020, update for Office 2016 (KB4484247)
This update fixes an issue in which you may receive an error message when you use an ADODB.Recordset object. The error may occur after you use a Recordset object, close it, and then use another Recordset object.
https://support.microsoft.com/en-us/help/4484247/march-3-2020-update-for-office-2016-kb4484247

Description of the security update for Excel 2016: February 11, 2020
https://support.microsoft.com/en-us/help/4484256/security-update-for-excel-2016-february-11-2020

Description of the security update for Excel 2016: January 14, 2020
This security update contains fixes for the following nonsecurity issues:
- Fixed: Excel crash issues.
- ...
https://support.microsoft.com/en-us/help/4484217/security-update-for-excel-2016-january-14-2020
Description of the security update for Excel 2016: December 10, 2019
You may receive the following error message when you open a file that is protected by Information Rights Management:
"This application is not trusted to consume rights managed content. The Authenticode signature for the application is not valid. Contact your administrator for further investigation."
To resolve this issue, install Office update 3178666.
https://support.microsoft.com/en-us/help/4484179/security-update-for-excel-2016-december-10-2019

November 5, 2019, update for Office 2016 (KB4484138)
This update fixes the following issue:
- Excel may crash when you live preview a pivot chart. This issue occurs when the pivot chart is a combo chart with data labels.
https://support.microsoft.com/en-us/help/4484138/november-5-2019-update-for-office-2016-kb4484138
Description of the security update for Excel 2016: November 12, 2019
This security update contains improvements and fixes for the following nonsecurity issues:
- Improves the performance of the Filter by color feature.
- When you use a marquee to indicate that some cells are selected, the marquee isn't always displayed as expected. This makes it difficult for you to know which cells have been selected when you select cells on multiple worksheets.
- You have browsed many add-ins in the Excel Add-ins dialog box. However, when you open the dialog box again, only the first 16 browsed add-ins are listed.
- A pivot table doesn't display expected results for certain attribute members in rows or columns when it's refreshed. However, a pivot table can display the attributes if they are moved to a filter.
-  Excel 2016 crashes intermittently when you work on workbooks.
https://support.microsoft.com/en-us/help/4484144/security-update-for-excel-2016-november-12-2019
Description of the security update for Office 2016: September 10, 2019
This security update contains improvements and fixes for the following nonsecurity issues:
- Improves the performance of ribbon Key Tips in Windows 10. To enable this improvement, add the DWORD registry value UseAsyncRibbonKeytips and set its value data to 1 in the HKEY_CURRENT_USER\Software\Microsoft\Office\16.0\Common location.
- You are prompted for credentials when Office 2016 opens a web resource from the content on a SharePoint site. For example, you are prompted when you copy and paste a site name from a page to an external Excel workbook.
https://support.microsoft.com/en-us/help/4475583/security-update-for-office-2016-september-10-2019
Description of the security update for Office 2016: September 10, 2019
This security update contains a fix for the following nonsecurity issue:
It may take longer than in earlier versions of Office to refresh PivotTables that are connected to external data, such as Access databases or other Excel workbooks on a network share.
https://support.microsoft.com/en-us/help/4475591/security-update-for-office-2016-september-10-2019
Description of the security update for Excel 2016: September 10, 2019
- When two or more workbooks are open, and at least one workbook contains a macro, the Excel Ribbon may be disabled when you select rows or columns.
- You may sometimes experience a "0x800A03EC" error when you use a VBA macro to update Power Query data.
https://support.microsoft.com/en-us/help/4475579/security-update-for-excel-2016-september-10-2019
September 3, 2019, update for Office 2016 (KB4464584)
https://support.microsoft.com/en-us/help/4464584/september-3-2019-update-for-office-2016-kb4464584
September 3, 2019, update for Office 2016 (KB4464531)
https://support.microsoft.com/en-us/help/4464531/september-3-2019-update-for-office-2016-kb4464531
September 3, 2019, update for Office 2016 (KB4011629)
https://support.microsoft.com/en-us/help/4464531/september-3-2019-update-for-office-2016-kb4464531
August 6, 2019, update for Office 2016 (KB4475516)
https://support.microsoft.com/en-us/help/4475516/august-6-2019-update-for-office-2016-kb4475516

August 6, 2019, update for Excel 2016 (KB4475550)
- After you upgrade Windows 7 to Windows 10, some Excel files with defined names can't be opened if you change the regional format to Chinese.
- Improves performance of protect and unprotect worksheets for macros.
https://support.microsoft.com/en-us/help/4475550/august-6-2019-update-for-excel-2016-kb4475550

July 2, 2019, update for Office 2016 (KB4464582)
A hang occurs when you open an Office document that references a nonexistent template.
https://support.microsoft.com/en-us/help/4464582/july-2-2019-update-for-office-2016-kb4464582

Description of the security update for Excel 2016: July 9, 2019
When you switch rows and columns in a Pivot Chart, and then you undo the switch operation, Microsoft Excel 2016 crashes.
https://support.microsoft.com/en-us/help/4475513/security-update-for-excel-2016-july-9-2019

June 4, 2019, update for Excel 2016 (KB4464578)
https://support.microsoft.com/en-us/help/4464578/june-4-2019-update-for-excel-2016-kb4464578

May 7, 2019, update for Excel 2016 (KB4464550)
If you install the update 4462115 or later Excel updates, after you select the total row or column, Excel 2016 crashes.
https://support.microsoft.com/en-us/help/4464550/may-7-2019-update-for-excel-2016-kb4464550
Description of the security update for Office 2016: April 9, 2019
Fixes the issue in which some users are unnecessarily forced into a state in which the hardware acceleration is turned off.
https://support.microsoft.com/en-us/help/4462242/description-of-the-security-update-for-office-2016-april-9-2019

Description of the security update for Excel 2016: April 9, 2019
Contains fixes for the following nonsecurity issues:
- If a file has multiple cells that use Japanese era dates, Excel 2016 may crash when the file opens.
- When a protected workbook and an editable workbook are opened at the same time, copying cells in the editable workbook causes high CPU usage.
https://support.microsoft.com/en-us/help/4462236/description-of-the-security-update-for-excel-2016-april-9-2019

March 5, 2019, update for Office 2016 (KB4461439)
This update fixes the following issue:
When you click on a shape within a chart in a protected worksheet and preview a chart style or chart color scheme, Excel 2016 crashes.
https://support.microsoft.com/en-us/help/4461439/march-5-2019-update-for-office-2016-kb4461439

March 5, 2019, update for Excel 2016 (KB4462212)
https://support.microsoft.com/en-us/help/4462212/march-5-2019-update-for-excel-2016-kb4462212

February 12, 2019, Description of the security update for Excel 2016
https://support.microsoft.com/en-us/help/4462115/description-of-the-security-update-for-excel-2016-february-12-2019

January 2, 2019, update for Excel 2016 (KB4461600)
https://support.microsoft.com/en-us/help/4461600/january-2-2019-update-for-excel-2016-kb4461600
December 11, 2018, Update for Excel 2016
https://support.microsoft.com/en-us/help/4461542/descriptionofthesecurityupdateforexcel2016december112018

November 13, 2018, Update for Excel 2016
This security update contains improvements and fixes for the following nonsecurity issues:
- When you right-click the Excel icon in the taskbar and select Close all windows, Excel 2016 crashes sometimes.
- When you save a workbook that contains external references to cells that contain metadata from another workbook, for example, a rich data type value, Excel 2016 crashes.
- When you programmatically copy a very hidden sheet to a new workbook by using the Worksheet.Copy method, Excel 2016 crashes.
- Assume that a workbook contains merged cells. When you hide, filter, or outline rows in the workbook, Excel 2016 may freeze.
https://support.microsoft.com/en-us/help/4461503/description-of-the-security-update-for-excel-2016-november-13-2018
October 16, 2018. Update for Office
Fixed various performance issues.
https://docs.microsoft.com/en-us/officeupdates/monthly-channel-2018#version-1809-october-16
October 9, 2018, Update for Excel 2016
This security update contains improvements and fixes for the following nonsecurity issues:
- When you show details of a collapsed group by clicking the Show Details command, Excel 2016 may freeze.
https://support.microsoft.com/en-us/help/4461448/description-of-the-security-update-for-excel-2016-october-9-2018
September 11, 2018, Update for Excel 2016
This security update contains improvements and fixes for the following nonsecurity issues:
- When you convert a large range of cells from Text to Number, Excel 2016 may appear to be frozen.
- It may take a long time to delete columns that contain merged cells.
https://support.microsoft.com/en-us/help/4092460/description-of-the-security-update-for-excel-2016-september-11-2018
September 4, 2018, update for Office 2016 (KB4022215)
https://support.microsoft.com/en-us/help/4022215/september-4-2018-update-for-office-2016-kb4022215
September 4, 2018, update for Office 2016 (KB3114853)
https://support.microsoft.com/en-us/help/3114853/september-4-2018-update-for-office-2016-kb3114853
September 4, 2018, update for Office 2016 (KB4092449)
https://support.microsoft.com/en-us/help/4092449/september-4-2018-update-for-office-2016-kb4092449

August 14, 2018, update for Excel 2016
This security update contains improvements and fixes for the following nonsecurity issues:
- Excel hangs intermittently in some cases. For example, Excel hangs when you paste many pictures into a worksheet and type text into cells. It also hangs when you paste a picture into a worksheet and then resize or move the picture.
- Excel hangs in specific cases. For example, tapping near the New Sheet button in a workbook on a touch-enabled computer can cause Excel to hang.
- Assume that you open several Excel workbooks in Protected view. When you unprotect and edit one of them, high CPU usage occurs.
https://support.microsoft.com/en-us/help/4032229/description-of-the-security-update-for-excel-2016-august-14-2018

August 7, 2018, update for Office 2016 (KB4032234)
https://support.microsoft.com/en-us/help/4032234/august-7-2018-update-for-office-2016-kb4032234

July 3, 2018, update for Excel 2016 (KB4022229)
https://support.microsoft.com/en-us/help/4022229/july-3-2018-update-for-excel-2016-kb4022229

July 3, 2018, update for Office 2016 (KB4018385)
https://support.microsoft.com/en-us/help/4018385/july-3-2018-update-for-office-2016-kb4018385

Description of the security update for Excel 2016: June 12, 2018
https://support.microsoft.com/en-us/help/4022174/description-of-the-security-update-for-excel-2016-june-12-2018
June 5, 2018, update for Office 2016 (KB4022159)
https://support.microsoft.com/en-us/help/4022159/june-5-2018-update-for-office-2016-kb4022159

Description of the security update for Excel 2016: May 8, 2018
When you try to print Excel 2016 documents and scroll by using the mouse wheel after the printer driver dialog box appears, Excel crashes.
https://support.microsoft.com/en-us/help/4018382/description-of-the-security-update-for-excel-2016-may-8-2018

Description of the security update for Excel 2016: April 10, 2018
When you open a worksheet that contains an external reference that includes metadata, for example a rich data type value in Microsoft Excel 2016, Excel crashes.
https://support.microsoft.com/en-us/help/4018337/description-of-the-security-update-for-excel-2016-april-10-2018

March 13, 2018, update for Office 2016 (KB4011727)
https://support.microsoft.com/en-us/help/4011727/description-of-the-security-update-for-excel-2016-march-13-2018

February 6, 2018, update for Excel 2016 (KB4011684)
https://support.microsoft.com/en-za/help/4011684/february-6-2018-update-for-excel-2016-kb4011684

January 9, 2018, Update for Excel 2016 (KB4011627)
You may experience intermittent crashes in Excel during background error checking after you copy sheets between workbooks.
https://support.microsoft.com/en-us/help/4011627/descriptionofthesecurityupdateforexcel2016january9-2018

January 2, 2018 - Version 1711 (Build 8730.2165)
Fix an issue where the programmatic creation of a PivotTable followed by a programmatic refresh causes Excel to crash.
Fix an issue where programmatically calling Workbook.Open() may cause Excel to crash.

https://technet.microsoft.com/en-us/office/mt465751
December 5, 2017, update for Excel 2016 (KB4011577)
https://support.microsoft.com/en-us/help/4011577/december-5-2017-update-for-excel-2016-kb4011577
https://support.microsoft.com/en-us/help/4011218/december-5-2017-update-for-office-2016-kb4011218
https://support.microsoft.com/en-us/help/4011211/december-5-2017-update-for-office-2016-kb4011211
November 27, 2017, Excel version 1710 (Build 8625.2139)
Fix an issue where the user incorrectly sees a "catastrophic failure" error message when opening an Office 2007 or older workbook (.xls or .xla) with macros.
https://technet.microsoft.com/en-us/office/mt465751
Description of the security update for Excel 2016: November 14, 2017
https://support.microsoft.com/en-us/help/4011220/description-of-the-security-update-for-excel-2016-november-14-2017
October 3, 2017, update for Excel 2016 (KB4011166)
https://support.microsoft.com/en-us/help/4011166/october-3-2017-update-for-excel-2016-kb4011166
October 3, 2017, update for Office 2016 (KB4011135)
https://support.microsoft.com/en-us/help/4011135/october-3-2017-update-for-office-2016-kb4011135
September 12, 2017, update for Excel 2016 (KB4011165)
https://support.microsoft.com/en-gb/help/4011165/september-12-2017-update-for-excel-2016-kb4011165
Description of the security update for Excel 2016: September 12, 2017
https://support.microsoft.com/en-us/help/4011050/descriptionofthesecurityupdateforexcel2016september12-2017
August 8, 2017, update for Excel 2016 (KB3085435)
https://support.microsoft.com/en-us/help/3085435/august-8-2017-update-for-excel-2016-kb3085435
Description of the security update for Excel 2016: July 11, 2017
https://support.microsoft.com/en-us/help/3203477/descriptionofthesecurityupdateforexcel2016july11-2017
June 6, 2017, update for Excel 2016 (KB3191922)
https://support.microsoft.com/en-us/help/3191922/june-6-2017-update-for-excel-2016-kb3191922
May 2, 2017, update for Excel 2016 (KB3191861)
https://support.microsoft.com/en-us/help/3191861/may-2-2017-update-for-excel-2016-kb3191861
April 4, 2017, update for Excel 2016 (KB3178719)
https://support.microsoft.com/en-us/help/3178719/april-4-2017-update-for-excel-2016-kb3178719
MS17-014: Description of the security update for Excel 2016: March 14, 2017
https://support.microsoft.com/en-us/help/3178673/ms17-014-description-of-the-security-update-for-excel-2016-march-14-20
February 7, 2017, update for Office 2016 (KB3141508)
You may experience unexpected issues in Excel 2016 that has multiple third-party add-ins loaded. For example, you may be unable to save a workbook to a mapped network drive.
https://support.microsoft.com/en-us/help/3141508/february-7-2017-update-for-office-2016-kb3141508
January 3, 2017, update for Excel 2016 (KB3141472)
https://support.microsoft.com/en-us/help/3141472/january-3--2017--update-for-excel-2016-kb3141472
MS16-148: Description of the security update for Excel 2016: December 13, 2016
https://support.microsoft.com/en-us/help/3128016/ms16-148-description-of-the-security-update-for-excel-2016-december-13
MS16-133: Description of the security update for Excel 2016: November 8, 2016
https://support.microsoft.com/en-us/help/3127904/ms16-133-description-of-the-security-update-for-excel-2016-november-8
October 4, 2016, update for Excel 2016 (KB3118373)
https://support.microsoft.com/en-us/help/3118373/october-4--2016--update-for-excel-2016-kb3118373
MS16-107: Description of the security update for Excel 2016: September 13, 2016
https://support.microsoft.com/en-us/help/3118290/ms16-107-description-of-the-security-update-for-excel-2016-september-1
September 6, 2016, update for Office 2016 (KB3115495)
https://support.microsoft.com/en-us/help/3115495/september-6--2016--update-for-office-2016-kb3115495
August 9, 2016, update for Excel 2016 (KB3115438)
https://support.microsoft.com/en-us/help/3115438/august-9--2016--update-for-excel-2016-kb3115438
August 2, 2016, update for Office 2016 (KB3115270)
https://support.microsoft.com/en-us/help/3115270/august-2--2016--update-for-office-2016-kb3115270
Excel workbooks may not open after MS16-088 is installed
https://support.microsoft.com/en-us/help/3181507/excel-workbooks-may-not-open-after-ms16-088-is-installed
MS16-088: Description of the security update for Excel 2016: July 12, 2016
https://support.microsoft.com/en-us/help/3115272/ms16-088-description-of-the-security-update-for-excel-2016-july-12--20
July 5, 2016, update for Office 2016 (KB3115266)
https://support.microsoft.com/en-us/help/3115266/july-5--2016--update-for-office-2016-kb3115266
June 7, 2016, update for Excel 2016 (KB3115139)
https://support.microsoft.com/en-us/help/3115139/june-7--2016--update-for-excel-2016-kb3115139
May 3, 2016, update for Excel 2016 (KB3115090)
https://support.microsoft.com/en-us/help/3115090/may-3--2016--update-for-excel-2016-kb3115090
MS16-042: Description of the security update for Excel 2016: April 12, 2016
https://support.microsoft.com/en-us/help/3114964/ms16-042-description-of-the-security-update-for-excel-2016-april-12--2
April 5, 2016, update for Office 2016 (KB3114958)
https://support.microsoft.com/en-us/help/3114958/april-5--2016--update-for-office-2016-kb3114958
March 8, 2016, update for Excel 2016 (KB3114848)
https://support.microsoft.com/en-us/help/3114848/march-8--2016--update-for-excel-2016-kb3114848
MS16-015: Description of the security update for Excel 2016: February 9, 2016
https://support.microsoft.com/en-us/help/3114698/ms16-015-description-of-the-security-update-for-excel-2016-february-9
February 9, 2016, update for Office 2016 (KB3114706)
https://support.microsoft.com/en-us/help/3114706/february-9--2016--update-for-office-2016-kb3114706
MS16-004: Description of the security update for Excel 2016: January 12, 2016
https://support.microsoft.com/en-us/help/3114520/ms16-004-description-of-the-security-update-for-excel-2016-january-12
January 12, 2016, update for Office 2016 (KB3114531)
https://support.microsoft.com/en-us/help/3114531/january-12--2016--update-for-office-2016-kb3114531
December 8, 2015, update for Excel 2016 (KB3114374)
https://support.microsoft.com/en-us/help/3114374/december-8-2015-update-for-excel-2016-kb3114374
Microsoft Office Update History
General MS Office update information for Office 365, 2019, 2016, Office 2013, Office 2010 and Office 2007:

Printer friendly version
Filed under: ASAP Utilities, General on April 23rd, 2020 by Bastien | Comments Off on The importance of Microsoft Office Update | Fix random crashes and performance issues