Save 5 minutes a day by using ASAP Utilities to easily close multiple workbooks at once.
"Close multiple or all files at once instead of just one at a time"
I often have multiple files open in Excel. I hate having to close each file separately. Is there an easier way?
Yes there is, just use:
ASAP Utilities » File & System » Close multiple files at once...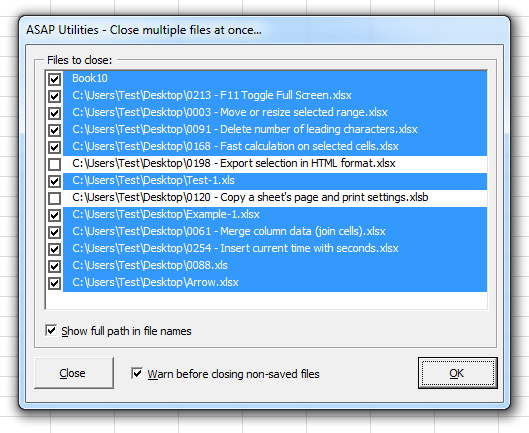 This utility makes it easier to close multiple files at once.
It shows you a list of all open workbooks and you can choose which ones to close.
When you start the utility then by default all files except for the active workbook are selected to be closed.
The utility is useful when you work with a lot of files that are opened in Excel and for example when you want to close all files, or all except for a few.
You can set the utility give you a warning before a file is closed from which the changes haven't been saved yet.
In such a case you can choose to save the file first before it is closed, not save the changes, or cancel the closing of it.
This is easier and gives you more control than using Microsoft's built-in way to close files in Excel or use its hidden Close All button.
Bonus tips, also interesting
How much time will it save?
It's guaranteed that you'll save yourself time and effort by using this tool. However, the actual time saved depends on how much you use Excel, the number of files/workbooks that you are working with and how often you use this particular tool.
You can easily see how much time ASAP Utilities has saved you so far.
Download
In case you don't have ASAP Utilities yet, you can download the free Home&Student edition (for home projects, schoolwork and use by charitable organizations) or the fully functional 90-day Business trial.
Download page

Printer friendly version
Filed under: ASAP Utilities, how to with ASAP Utilities, save 5 more minutes a day on May 2nd, 2013 by Bastien | Comments Off on Tip: Quickly close multiple workbooks at once