Save 5 minutes a day by using ASAP Utilities to quickly change your text to uppercase.
"How to quickly capitalize all text"
Have you ever had data in a worksheet where all the text was all lowercase? Then you had to retype it all to get it into uppercase? No more!
Just select the cells and then start:
ASAP Utilities » Text » Change to UPPERcase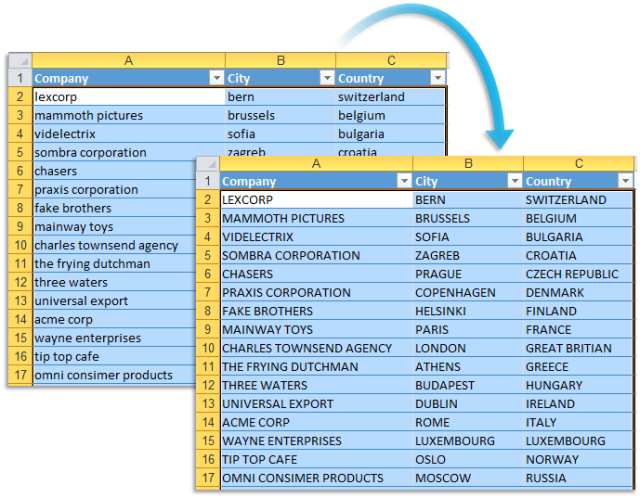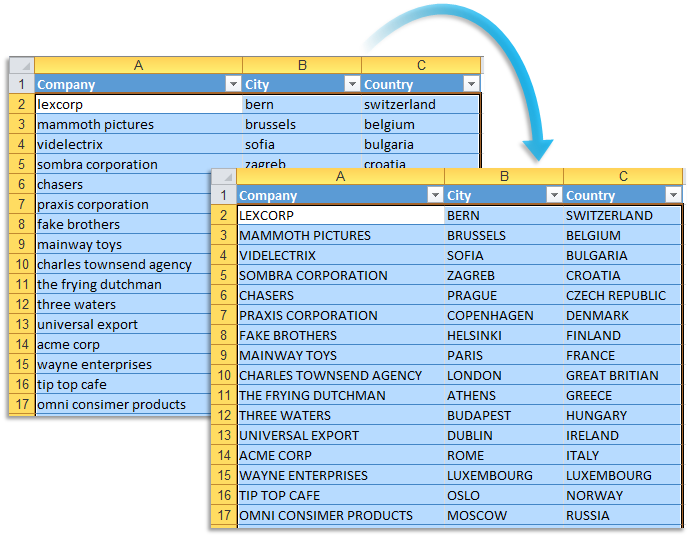 Do you recognize any of these situations?
How can I select all cells or group of cells and make all of the text capital letters?
How do I capitalize letters in excel? I've got columns of names and addresses - some are in lower and some in upper form - how do I change from lower to upper -meaning how do i capitalize these letters? Thanks
I have copy and pasted text from different documents to create one. Some are upper case and some are not. I would like to capitalize all of it.
How can I format the cells to capitalize ALL letters in a word?
I generated a large spreadsheet and now for legal reasons all the data has to be in Upper case. Is there a quick way to convert all the text?
Just select the cells and then use the following tool:
ASAP Utilities » Text » Change to UPPERcase
This a quicker alternative than using a combination of temporary columns, Excel's =UPPER() function and Copy > Paste Special > Values .
Bonus tips, also interesting
How much time will it save?
It's guaranteed that you'll save yourself time and effort by using this tool. However, the actual time saved depends on how much you use Excel, the amount of data you are working with and how often you use this particular tool.
You can easily see how much time ASAP Utilities has saved you so far.
Download
In case you don't have ASAP Utilities yet, you can download the free Home&Student edition (for home projects, schoolwork and use by charitable organizations) or the fully functional 90-day Business trial.
Download page

Printer friendly version
Filed under: ASAP Utilities, how to with ASAP Utilities, save 5 more minutes a day on June 17th, 2013 by Bastien | Comments Off on Tip: Easily change the text in selected cells to UPPERCASE