Descriptions of all tools in ASAP Utilities
This list gives you a glance at the macro tools in ASAP Utilities.
Please take the time to read it. I'm sure you'll find some great time-saving tools such as many others did.



English (us) / Nederlands / Deutsch / Español / Français / Português do Brasil / Italiano / Русский / 中文(简体) / 日本語
The tools are organized into the following categories

You can also view a fully expanded list with the entire ASAP Utilities submenus and their tools.
The ASAP Utilities menu in Excel
Excel 2016, 2013, 2010 or 2007 with ASAP Utilities in its menu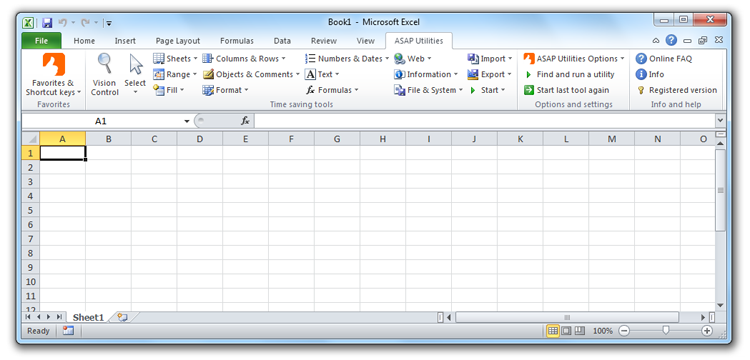 Excel 2003, 2002/XP or 2000 with ASAP Utilities in its menu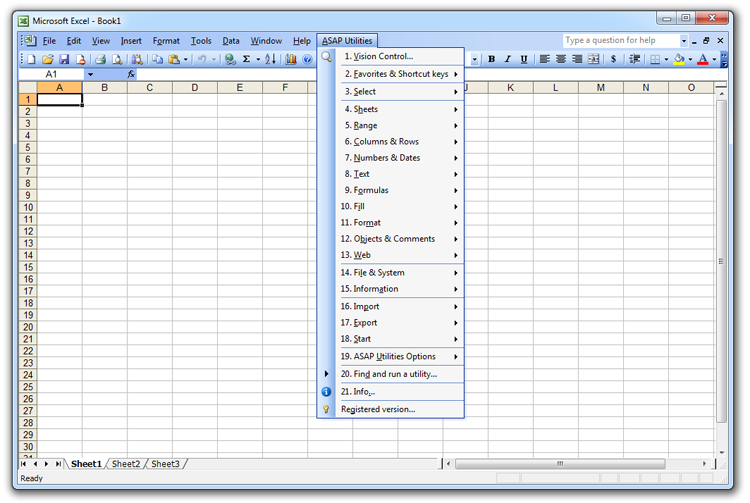 Extra worksheet functions
You get several extra worksheet functions in Excel when you have ASAP Utilities installed.
Examples of how to use ASAP Utilities
Some of the most asked questions that can be (or have been) solved by using ASAP Utilities.
Quickly find a tool from inside ASAP Utilities
In the "Info..." option in ASAP Utilities you can find the same brief description of each tool.
In the program there is also a search function which can be very useful:
In the Excel menu choose ASAP Utilities » Find and run a utility...

You can immediately run the utility from within the results window or add it to your Favorites menu by pressing the + button or press the ? button to visit the description and screenshots of the tool on the website.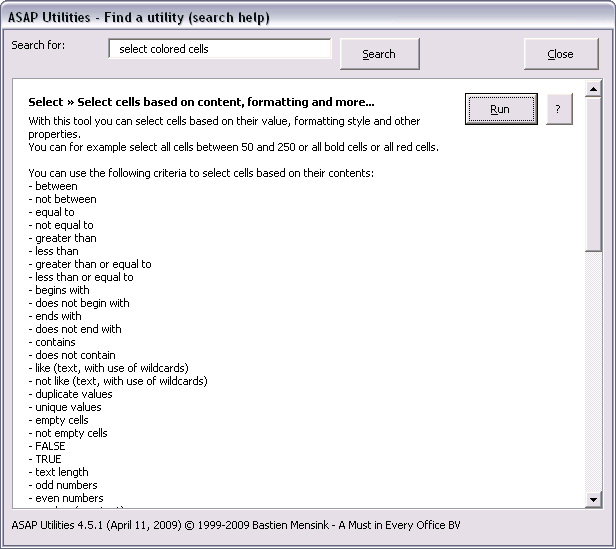 Follow ASAP Utilities on Facebook