Show flowchart toolbars
English (us) ⁄ Nederlands ⁄ Deutsch ⁄ Español ⁄ Français ⁄ Português do Brasil ⁄ Italiano ⁄ Русский ⁄ 中文(简体) ⁄ 日本語This utility will display both the flowchart- and connector toolbar as separate toolbars.

When you work on a flowchart you can select the tools for this via the "Drawing" toolbar.
Unfortunately it takes several steps. To draw something you first have to click on the "AutoShapes" button in the drawing toolbar, then choose "Connectors" or "Flowchart" and then you can pick what you want to draw.

By showing the flowchart tools as individual toolbars you can save yourself a few clicks. Creating flowcharts will become easier and goes much faster.

Remark:
This utility does not work in Excel 2007 (and later) because Microsoft has removed the toolbars that Excel version.
If you use Excel 2007 or later then you can choose in the menu (ribbon) 'Insert' > 'Shapes' to draw a flowchart.
If you want to you can add the shapes-group to your quick access toolbar (QAT) by right-clicking on it.
Screenshots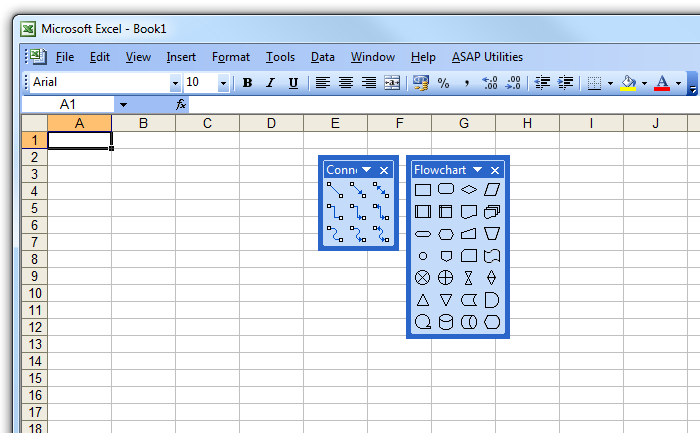 Starting this tool