Upgrade to the latest version
Important
Upgrade
Upgrading to the latest version of ASAP Utilities is a simple two-step process:
Step 1. Download ASAP Utilities
Click here to visit the download page

Licensed users have been provided with a special download link.
If you have a license, then you can download the latest version here.


Step 2. Install the new version right over your old one
To upgrade to a newer version of ASAP Utilities, just install a new copy of ASAP Utilities right over your old one.
The installation is an easy step-by-step process that speaks for itself.
If you want view it, we have created a step-by-step tutorial for the installation with screenshots and this information is also described in the User Guide in chapter 3.

History of Changes
Go to the version history of ASAP Utilities to view all new features, updates, and fixes.
When to buy a license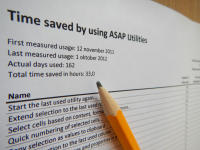 » Business Edition
This edition of ASAP Utilities is for companies and governments.
You should always purchase a license for ASAP Utilities if you use it in a commercial organization (most companies are this)
We offer a free 90 day trial version with functionality.
To continue to use it after the 90-day trail period, simply purchase a license key.
» Home & Student edition & Charitable organizations
The free "Home&Student" edition of ASAP Utilities is free to use for home projects, school homework and charitable/non-profit organizations such as for example MSF and Amnesty International. Especially with providing it for free to students and charitable organizations, we hope to contribute to a brighter future.
Purchasing a license is voluntary for this group and a reason to purchase a license can be:

if you like ASAP Utilities and think it is worth the money
to get priority support
to support future development
Key benefits of a license
use it in a commercial organization
(which is what most companies are)
priority support via email
no forced updates twice a year
Who uses ASAP Utilities?
ASAP Utilities exists since 1999 and is used in a variety of organizations.
We're proud to mention that our list of clients exceeds 26,000 organizations in more than 140 countries worldwide.
Comparison table
When should you buy a license and what are the major benefits:
Order now
The following is a direct link to the ASAP Utilities order form:
https://www.asap-utilities.com/buy.php
Contact us
Due to the international nature of ASAP Utilities with different languages and time zones we prefer contact by email.
We can communicate in English and Dutch (native language) and you can reach us at support@asap-utilities.com.
See our full contact details.