Vernieuw of maak de ASAP Utilities werkbalk
English (us) ⁄ Nederlands ⁄ Deutsch ⁄ Español ⁄ Français ⁄ Português do Brasil ⁄ Italiano ⁄ Русский ⁄ 中文(简体) ⁄ 日本語

ASAP Utilities Opties › Vernieuw of maak de ASAP Utilities werkbalk
Deze tool vernieuwt of maakt de ASAP Utilities werkbalk.
Dit is een werkbalk die een paar van de meest gebruikte tools van ASAP Utilities bevat.

U kunt de grootte van de werkbalk aanpassen door de rand te verslepen.
Indien u knoppen van de werkbalk wilt verwijderen kunt u dit doen door in het Excel menu te kiezen voor Beeld » Werkbalken » Aanpassen. Vervolgens kunt u de knoppen van de werkbalk wegslepen. Wanneer u klaar bent klikt u op 'sluiten' om het aanpas-venster te sluiten.

Remark:
Deze tool werkt niet in Excel 2007 (en nieuwer) omdat Microsoft de werkbalken heeft verwijderd in die Excel versie.
Mogelijk bent u ook geïnteresseerd in de tool "Vernieuw of maak de ASAP Utilities Favorieten werkbalk".
Screenshots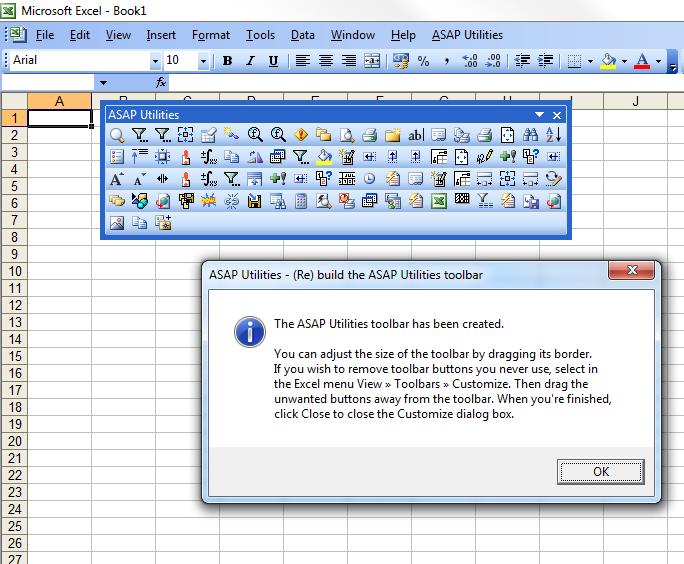 Deze tool starten