Is ASAP Utilities also available for the Apple Mac?
Date: June 28, 2005 (last updated on August 12, 2015)
reference id: QA0038
Question
Is ASAP Utilities also available for the Apple Macintosh versions of Excel?
Short Answer
ASAP Utilities currently only works with the Windows editions of Excel.
We're certainly looking at the Apple-platform. However, as long as the only type of add-ins that Mac Excel supports are the ones that can be cracked in under a minute, we are rather reserved in developing such a version, because of the fear of piracy. I'm sorry but that is the way it currently is.
With the new (preview of) Mac Office 2016 that hasn't been improved.
More detailed Answer
Unfortunately, not there isn't, we don't have a special edition for the Mac editions of MS Excel. But you can use a workaround to use ASAP Utilities on your Apple Mac.
At this moment we're concentrating all our energy on making ASAP Utilities better for the Windows versions of Excel since (by far) the most people are using the windows version.

Perhaps in the future there will be a version of ASAP Utilities that will work with the Mac version of Excel. Furthermore the future of VBA (the programming language most macros and ASAP Utilities uses) was for a long time uncertain for the next versions of MS Excel for the Mac (vbaexpress.com/forum/..). In version 2008 it was completely removed by Microsoft which caused all normal Excel macros not to work. Fortunately in Mac Excel 2011 Microsoft has brought it back.
Microsoft had dropped vba-macros in Mac Office 2008
Support for VBA in the Mac OS X version of Microsoft Office
was dropped with the release of Microsoft Office 2008 for Mac
, in favor of AppleScript. Microsoft, however, has also clearly stated that they have
no plans to remove VBA from the Windows version
of Office.
Removing VBA support requires a complete rewrite of ASAP Utilities in a new programming language and that is not something we have planned to do in a near future.
Support for VBA (standard Excel macros) is back in Mac Office 2011

Good news, MS has brought back the support for macros written in VBA (the default for macros) in Mac Office 2011.
Souces:
ZDnet: VBA to make its triumphant return to Excel 2011 for Mac
Macworld.com: Microsoft to bring back Visual Basic in Office for Mac
Unfortunately still not fully compatible with the Excel for Windows
The latest version of Mac Office still doesn't supports COM add-ins. ASAP Utilities consists of two type of add-ins. The first is a common "Excel Add-in" (ASAP Utilities.xla), the second is "COM Add-in" (ASAP_Utilities.dll), which is faster then a general Excel Add-in and less easy to crack and for these reasons contains nearly all of the macros. Unfortunately this second type of add-in still isn't supported by the Mac edition of Excel.

ASAP Utilities System Requirements
Detailed information about the system requirements of ASAP Utilities.
Workaround to run Windows (and ASAP Utilities) on your Mac
From the Apple website: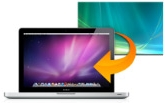 "Have a Windows application you need to use once in a while? No problem. Every new Mac lets you install and run Windows at native speeds, using a built-in utility called Boot Camp.
Setup is simple and safe for your Mac files. After youíve completed the installation, you can boot up your Mac using either Mac OS X or Windows. (Thatís why itís called Boot Camp.) Or if you want to run Windows and Mac applications at the same time — without rebooting — you can install Windows using VMware or Parallels software."
Links:
Parallels Desktop for Mac
VMWare Fusion
Virtual Box
Apple Boot Camp support page

With one of these workarounds you are able to run the Windows version of Excel. And then you can benefit from all the tools in ASAP Utilities to help you otherwise perhaps with the tedious and time-consuming tasks.
Alternative add-in: Power Utility Pak for the Mac, Add-in Tools for Excel 2011
As an alternative for the Mac, you can also try the following add-in, written by John Walkenbach and Ron de Bruin, both well respected Excel developers:
http://www.rondebruin.nl/mac/addins/pupmac.htm
« back