No malware/no viruses Policy
Date: August 25, 2006 (last updated on December 17, 2020)
reference id: QA0099
ASAP Utilities exists since 1999 and has been and always will be free of any bad stuff such as viruses, adware or spyware. Our primary goal is to help people and contribute to society.

We are the owner and author of ASAP Utilities so we know exactly what we've put in our program, and it's only good stuff. Furthermore, all files available on our website are always thoroughly checked for viruses before being made available.
We have also digitally signed ASAP Utilities. This way you can verify that the program is the original version, coming from us.
Digital Signature - verified Publisher
The ASAP Utilities setup and add-in files are signed with a digital certificate. This signature provides you with the assurance that, what you are about to use, comes from our company and that it has not been tampered with.
The name of our company is A Must in Every Office BV: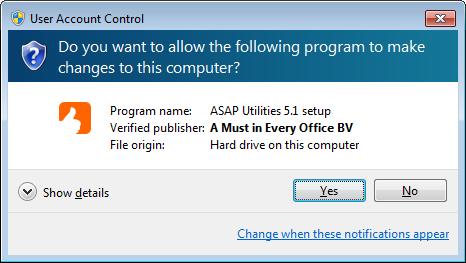 False alerts
In case your anti-virus program reports a virus or spyware in ASAP Utilities (and you have downloaded it from our official homepages), you should either update the anti-virus program or use a better one. We have seen false reports the past years especially from CA Anti-Virus. In these cases the false alert was gone when the latest updates of the anti-virus program were installed. That also applies to AVG version 8 which reports a virus in ASAP Utilities, in AVG version 9 they have corrected that false error.
« back