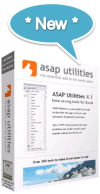 We're proud to officially announce the new version of ASAP Utilities!
You can download 4.1.2, July 16, 2007.
This new version is improved in several ways.
The User Guide is now included in the setup and easily available through the ASAP Utilities menu.
I would like to thank everybody for their feedback the past months!
If you would like to be informed by email when a new version is released, you can subscribe to our newsletter.