What's new on ASAP Utilities
We'll keep you updated about new releases of ASAP Utilities. If you want to receive an email as soon as a new version is released, then subscribe to our newsletter. The news is also available as an rss-feed

---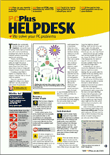 Users of Excel 97 and 2000 may like to download ASAP Utilities from www.asap-utilities.com. This free add-in gives you 200 extra tools for Excel, or 300 in the beta of the new version. It's worth having even if you only use a few of them.
---

In may 2001 Chip Pearson, one of the worlds leading Excel gurus, wrote a review about ASAP Utilities. ASAP Utilities is mentioned on his website as a "must have" add-in for Excel power users.

"Created by Bastien Mensink in the Netherlands, this is a fantastic collection of over 200 utilities, all very well organized into a menu structure added to the Excel menu bar. This is truly one of the best and most useful add-ins I've ever used."
---

In april 2001 Lockergnome, a big free technology e-mail newsletter, wrote a review about ASAP Utilities in their newsletter and on their website:

'I recently featured a great Microsoft Excel site that provided all sorts of useful tips and tricks for mastering the spreadsheet, but it was quickly brought to its knees and remains unavailable, so I thought I owed you another great Excel feature. ASAP Utilities is a set of over 200 Excel 97/2000 add-ins that will revolutionize the way you and your users interact with data. Everything from formatting text and cells to handling sheets and selections is included and the installation is as simple as pointing the way to the add-in file (.XLA) included in the package.'

http://channels.lockergnome.com/it/backissues/20010411.phtml
« previous
1
2
3
4
5
6
7
8
9
10
11
12
13
14
15
16
17
18
19
20
21
22
23
24
25
26