PC World: "This Add-In is a real treasure"
Date review: September 7, 2018
We're proud to mention that ASAP Utilities is mentioned in PC World's article from September 2018 about their favorite Excel Add-Ins: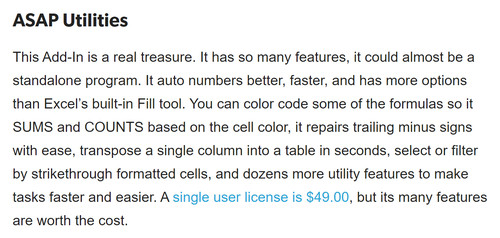 PC World: Excel Add-Ins: How to find and use them
We've picked some favorites for you to try, and some are free.
...
ASAP Utilities
This Add-In is a real treasure. It has so many features, it could almost be a standalone program. It auto numbers better, faster, and has more options than Excel's built-in Fill tool. You can color code some of the formulas so it SUMS and COUNTS based on the cell color, it repairs trailing minus signs with ease, transpose a single column into a table in seconds, select or filter by strikethrough formatted cells, and dozens more utility features to make tasks faster and easier. A single user license is $49.00, but its many features are worth the cost.
...
Source:
https://www.pcworld.com/article/3277608/excel-add-ins-how-to-find-and-use-them.html
« back