Copy a sheet's page and print settings...
English (us) ⁄ Nederlands ⁄ Deutsch ⁄ Español ⁄ Français ⁄ Português do Brasil ⁄ Italiano ⁄ Русский ⁄ 中文(简体) ⁄ 日本語
Sheets › 18. Copy a sheet's page and print settings...
With this tool you can easily copy the page and print settings from a worksheet to other worksheets.

You can copy the following properties:

Rows to repeat at top

Columns to repeat at left

Print area

Header left

Header right

Footer left

Footer center

Footer right

Margin left

Right margin

Center header

Top margin

Bottom margin

Header margin

Footer margin

Row and column headings

Gridlines

Printing quality

Center on page horizontally

Orientation

Draft quality

Paper size

Print comments

First page number

Print in black and white

Order

Zoom/scaling

Center on page vertically

Scale to fit page

Note:
The speed of this utility might vary, depending on the type of printer(driver) that is set as default when the tool is executed.
Starting from Excel XP/2002 you can also insert a picture in the header or footer. Unfortunately this is something that cannot be copied to other worksheets by using a macro. So if you have a picture in the header or footer it will not be copied with this tool in ASAP Utilities. From the Microsoft website: "The only way to work with pictures in headers or footers for multiple worksheets is to select all the worksheets, and then insert a graphic by using the Insert Picture dialog box (click the Insert Picture button), or format the graphic by using the Format Picture dialog box (click the Format Picture button). The original graphic file is needed for this procedure."
Screenshots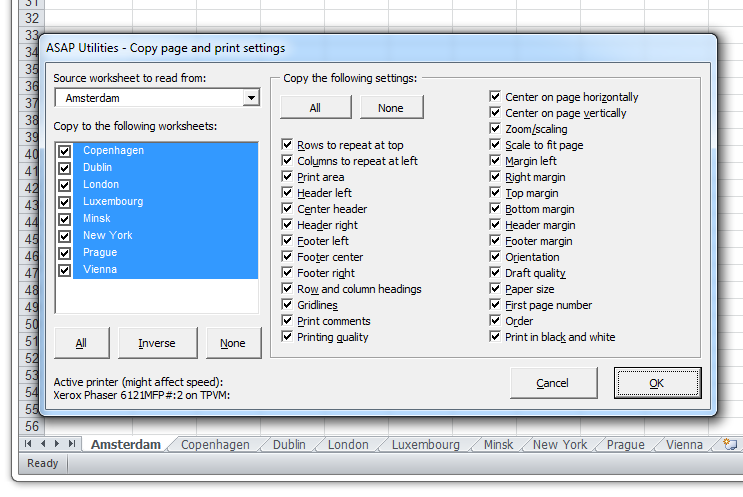 Starting this tool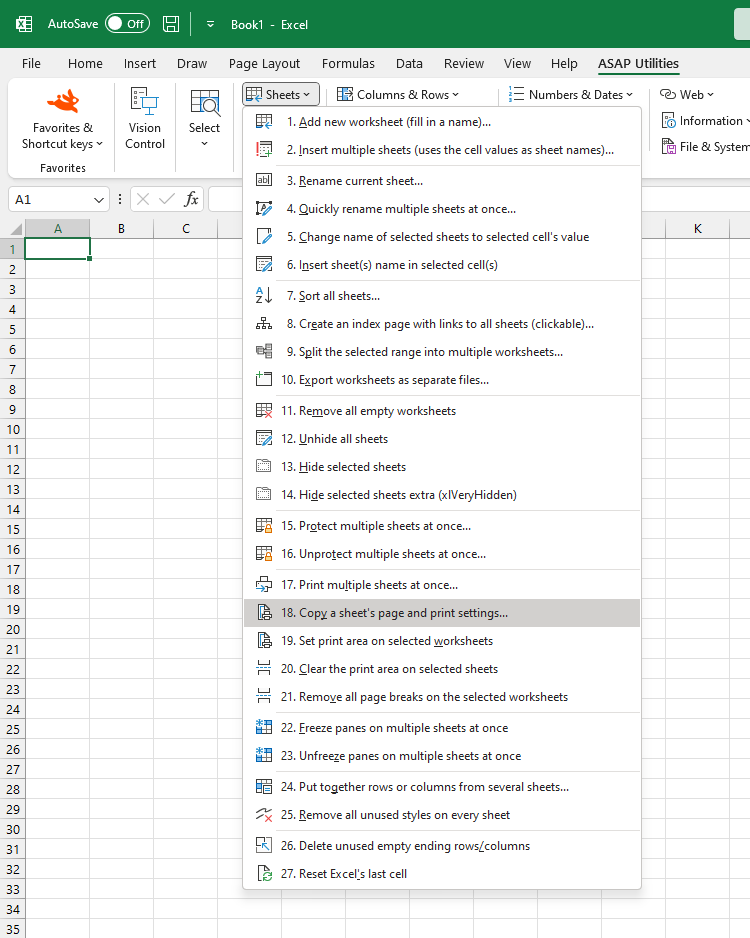 Additional keywords for this tool:
page setup, copy page formatting, page setup for all worksheets, apply format to all worksheets, copy page formats to all worksheets