Download all versions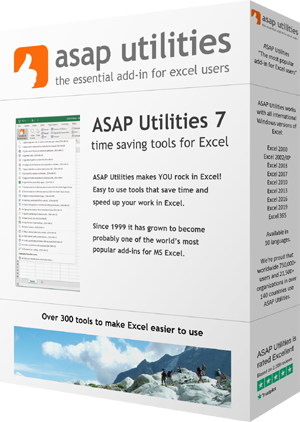 Thank you for your purchase of ASAP Utilities!
As a licensed user you can download here the latest, future and previous versions.
Most recent version
The most recent version of ASAP Utilities that is currently available is version 7.8.1 which was released on December 16, 2020.
First time installation: enter the license details
If it is a first-time installation on the computer then it is the registration information that is important; It turns the trial version into the full registered and unlimited version. You need to enter the license details for each user you purchased a license for.
Upgrading
To upgrade to a newer version of ASAP Utilities, just install a new copy of ASAP Utilities right over your old one. Your settings will then be preserved. The program will then recognize your existing license information and the trial automatically becomes the full version. The same applies to 'downgrading'. (However if you want to downgrade from a major version, such as from version 7 to version 5, then we recommend to uninstall first.)
Upgrade to versions 7.x
If you purchased a license for version 5.x, then you get version 7.x free of charge. You can use the same license details.
If your license was purchased in 2012 or earlier, then please contact us for a 50% discount for version 7.
Upgrade to versions 5.x
If you purchased a license for version 4.x, then you get version 5.x free of charge. You can use the same license details.
Information for the IT department
Technical information that can help you to automate the installation and manage the installs.
Downloads and history of changes
You can click on the release date of each version to view the changes made in that particular version. You can also compare versions.

Version 7.x
Version 5.x
Version 4.x
Previous versions of ASAP Utilities?
If you have a license then you can keep using (older) versions of ASAP Utilities and they will never expire.
Need help with the installation?
We have created a step-by-step tutorial to help you with the installation.
When the installation is finished and you start Excel, you will see an extra item in the Excel menu/ribbon called "ASAP Utilities".

Quick Start: How to get the best out of ASAP Utilities
Discover how ASAP Utilities makes YOU rock in Excel.
Frequently we write a new tip on our website and blog to show you how to benefit from the tools in ASAP Utilities. If you're new to ASAP Utilities then this is a good place to start.
Screenshots