Thank you for downloading "ASAP Utilities 7.9.3 HS Setup NoManual.zip"
Your ASAP Utilities software download will start automatically.
If it does not start after a few seconds, use this link.
By downloading and installing this software, you agree to the License Agreement.
Home & Student edition
Only free for home projects, schoolwork and use by charitable organizations.

Note
This Home & Student edition cannot be used for commercial or business use.
For such use download the Business edition
Instructions
In the File Download dialog box, do one of the following:
You may need to click the yellow bar at the top of the browser window to allow the download.
To start the installation immediately, click Open or Run this program from its current location.
To copy the download to your computer for installation at a later time, click Save or Save this program to disk.
Quick Start: How to get the best out of ASAP Utilities
Discover how ASAP Utilities makes YOU rock in Excel.
Frequently we write a new tip on our website and blog to show you how to benefit from the tools in ASAP Utilities. If you're new to ASAP Utilities then this is a good place to start.
Benefits of a license
What are the benefits and when should you buy a license:
Features
Without license
With license
Over 300 utilities to fill the gaps and speed up your work in Excel
Allowed to use in a commercial organization *
(ASAP Utilities is only free for home projects, schoolwork and charitable organizations)
Priority support
The program will never expire and force you to update
Supported Excel versions
Excel 365 Desktop (32-bit and 64-bit edition)
Excel 2021 (32-bit and 64-bit edition)
Excel 2019 (32-bit and 64-bit edition)
Excel 2016 (32-bit and 64-bit edition)
Excel 2013 (32-bit and 64-bit edition)
Excel 2010 (32-bit and 64-bit edition)
Excel 365 (32-bit and 64-bit edition)
Excel 2007
Excel 2003
Excel 2002/XP
Excel 2000
Works on both 32 bit and 64 bit Windows
No spyware, adware, or bundled software
Your contribution helps us to further develop and improve ASAP Utilities.
free
USD 49.00
(or less with volume discounts)
Buy Now!
* You can try ASAP Utilities (full functionality) in a commercial organization for up to 90 days. If you like it, then simply purchase a registration key. Download the business edition

Need help installing?
We have created a step-by-step tutorial to help you with the installation.
When the installation is finished and you start Excel, you will see an extra item in the menu called "ASAP Utilities":

Excel 365, 2021, 2019, 2016, 2013, 2010 or 2007 with ASAP Utilities in its menu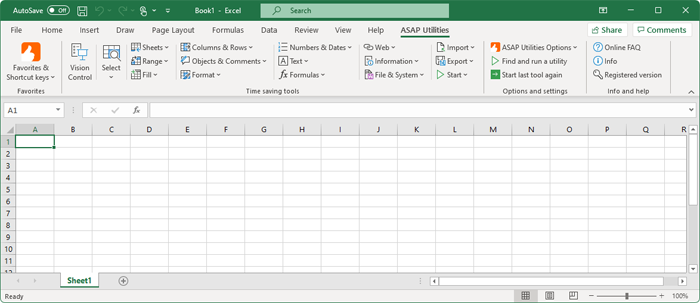 Excel 2003, 2002/XP or 2000 with ASAP Utilities in its menu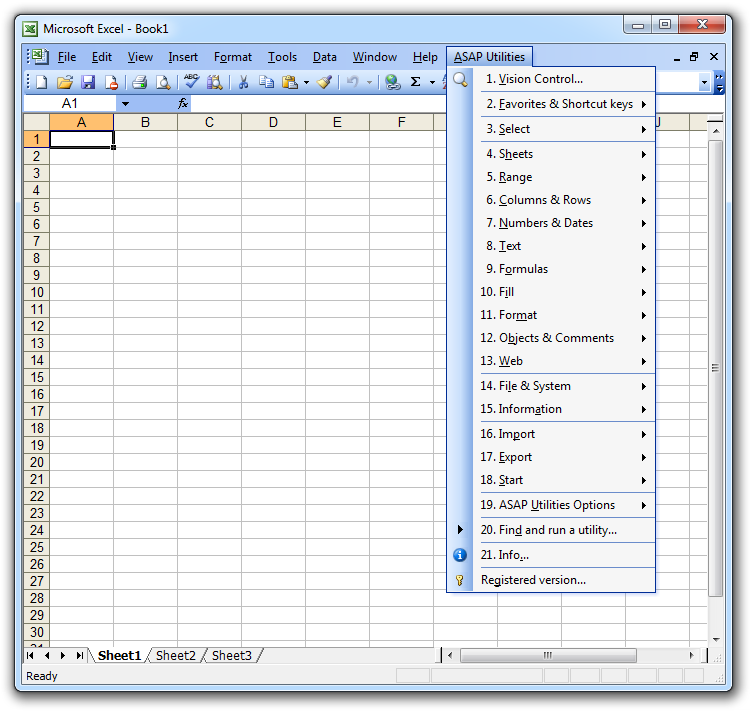 Problems downloading?
We're very popular so our download-server can be busy.
If you experience problems then you can try it via one of our alternative download options.
Feedback
If you have suggestions, comments or find a bug, please contact us.