Can you send me a copy of my license details?
Date: May 4, 2007 (last updated on Februari 7, 2020)
reference id: QA0140
Question
I have lost my license details, can you help me locate or retrieve it?
Answer
You received two emails after the order was completed. The email from "ASAP Utilities (A Must in Every Office BV) " contains the full license information.
If you can't find your license details anymore, then we can look it up in our system and send you a copy.
Please send us an email (support@asap-utilities.com) with as much information as possible to locate your license.
(order number, name, organization, email address used at the time of purchase, etc.).
If you're upgrading to a new computer, then you can find your order details on your current computer via:
Excel > ASAP Utilities > Registered version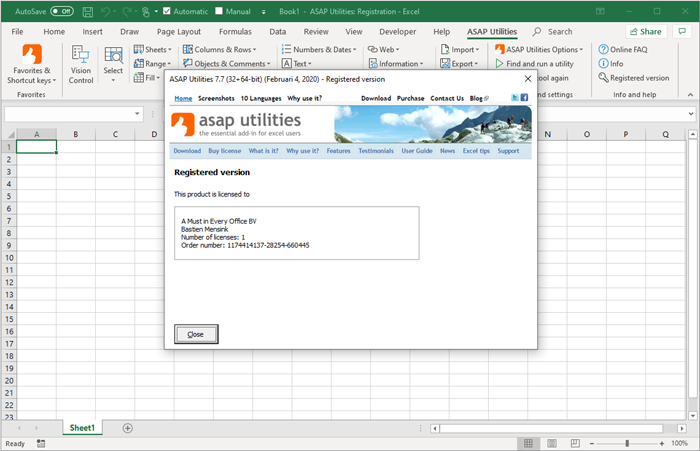 Download and use
To immediately start using ASAP Utilities, you can download the latest version from our website. Upon installation it will initially be a fully functional 90-day trail.
The as soon as you receive your license information you can turn the trial into the full unlimited version by entering your license details.
Additional keywords for this tool:
license key, registration numbers, end-user info, serial number, password, username, activation code, serial codes
« back