Do you have a local reseller? Or how to purchase as a reseller.
Date: June 20, 2008 (last updated on May 16, 2018)
reference id: QA0186
Question
Do you have a local reseller? Or if I am a reseller, how can I purchase ASAP Utilities for a customer?
Answer
At this moment we don't have a specified/limited list of local partners or resellers.
Basically we allow any reseller to purchase ASAP Utilities for its clients, see below. There isn't a special certification or sign-up required for this.
How to make a purchase as a reseller
You can easily order ASAP Utilities for a client. On the order form you can specify the end-user details.

The price for a single user license of ASAP Utilities is USD 49.00.
We do offer volume discounts but no reseller discounts.
Volume discounts start at a quantity of 2 users.
More information about pricing, buying and volume discounts is available on the following page:
buy.php
buy.php#volume_discount

You can view an example of the purchase process at:
registration-help.php

We offer free upgrades for at least 3 years or until the 7.9 version of ASAP Utilities, whichever is longer. If version 8 is released within 3 years of your purchase you get all upgrades including version 8 free. In addition, the license will also be valid for the earlier 5.x and 4.x versions of ASAP Utilities.
The price is a one time fee, not a yearly subscription.
sales-policy.php

ASAP Utilities is offered electronically as a digital download and the license is sent by email.
All orders/payments are handled by our reseller/partner MyCommerce (part of Digital River) so that we can offer our clients several payment methods worldwide and, with clients in over 140 countries, it reduces the worldwide TAX/VAT administration and thus we can spend more time on the development and support of ASAP Utilities.

You can view the license agreement on our website:
end-users-license-agreement.php

The registration code is sent to you by email immediately after the order is completed and the payment is received. This is usually within 30 minutes when you pay with a credit card.
More information about payment methods:
registration-payment-options.php
Where to enter the customer's / end-user details
In order to make a purchase on behalf of a customer, uncheck the option: "The Recipient or Licensee is the same as the Purchaser" and enter the details of the end-user as the recipient information.
The first name, last name and organization entered there will be part of the license.
The license is sent to the email address entered in the "Recipient information" section, with a CC to the email address entered in the "Billing information" section.
The invoice/receipt is (only) sent to the email address entered in the "Billing information" section.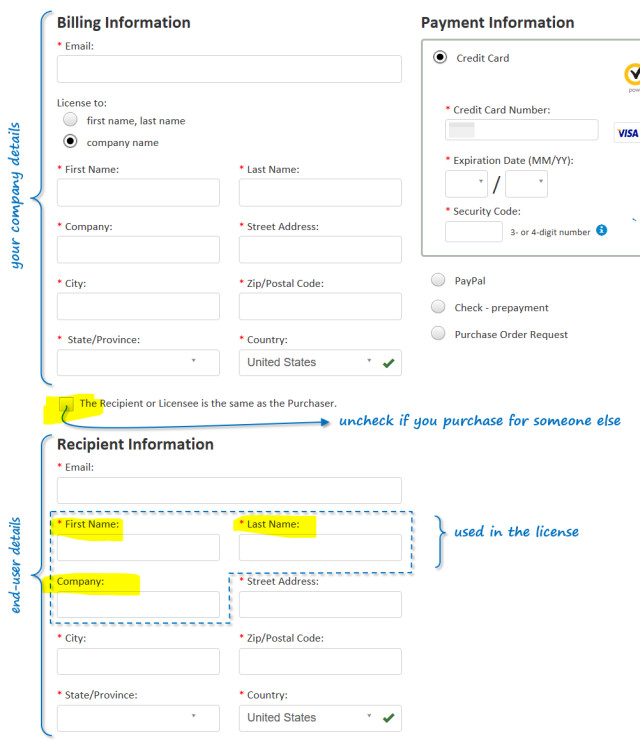 You can view an example of the purchase process at:
registration-help.php
« back
Follow ASAP Utilities on Facebook