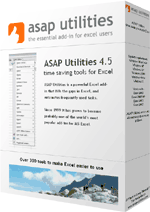 We're proud to officially announce the new version of ASAP Utilities!
You can download 4.5.1, April 11, 2009.
This new version is improved in many ways. Most of the tools have been updated, improved and redesigned. A major improvement is that you can now switch between two languages: English and Dutch(Nederlands)!

This year, in 2009, ASAP Utilities celebrates its 10th anniversary. In February 1999 the first public version was released on the internet. Our goals is to further improve ASAP Utilities and have it translated into several languages so that more people can benefit from it. Since we are from the Netherlands, the first and easiest step for us was to add the Dutch language.
I would like to thank everybody for their feedback the past years!
The April newsletter: New ASAP Utilities version 4.5.1 released!