Formule/berekening toepassen op geselecteerde cellen...
English (us) ⁄ Nederlands ⁄ Deutsch ⁄ Español ⁄ Français ⁄ Português do Brasil ⁄ Italiano ⁄ Русский ⁄ 中文(简体) ⁄ 日本語

Formules › 2. Formule/berekening toepassen op geselecteerde cellen...
Met deze tool kunt u snel een berekening uitvoeren op de geselecteerde cellen.
Bijvoorbeeld snel alle cellen in uw selectie met 10 vermenigvuldigen zonder eerst een extra kolom te hoeven toevoegen en daar de formule in te typen.

Bij het toepassen van de berekening zal er een formule om de originele formule of waarde in uw cellen heen worden gebouwd. Bijvoorbeeld indien u een cel heeft met de formule '=(12*2)' en u past via deze tool de berekening /24 toe, dan wordt de nieuwe formule in de cel '=(12*2)/24'.
De formule wordt toegepast op alle cellen in uw selectie met uitzondering van cellen met fouten, lege cellen, cellen met tekst of cellen met een matrixformule.
Indien de nieuwe formule in een fout zou resulteren dan wordt u vooraf gewaarschuwd en worden er geen wijzigingen uitgevoerd.

Gebruikers van de niet-Engelse Excel versie kunnen de formules in hun lokale taal gebruiken. Bijvoorbeeld in het Nederlands kan u de komma als decimaalteken gebruiken en de lokale versie van werkblad formules, zoals bijvoorbeeld "+SOM(G20:G40)" in plaats van het Engelse "+SUM(G20:G40)".
Er zijn veel formules die u kunt ingeven zoals bijvoorbeeld '/1000', '+4', '*2,55', '*C33'.
Deze tool wordt ook vaak gebruikt voor het omrekenen van eenheden, zoals bijvoorbeeld het omzetten van kilometers naar meters.

De 100 laatst gebruikte formules worden onthouden voor hergebruik.
Standaard kunt u deze tool starten met de sneltoets Control+Alt+I.
Screenshots
Voorbeeld screenshot: 1 Snel een berekening uitvoeren in de geselecteerde cellen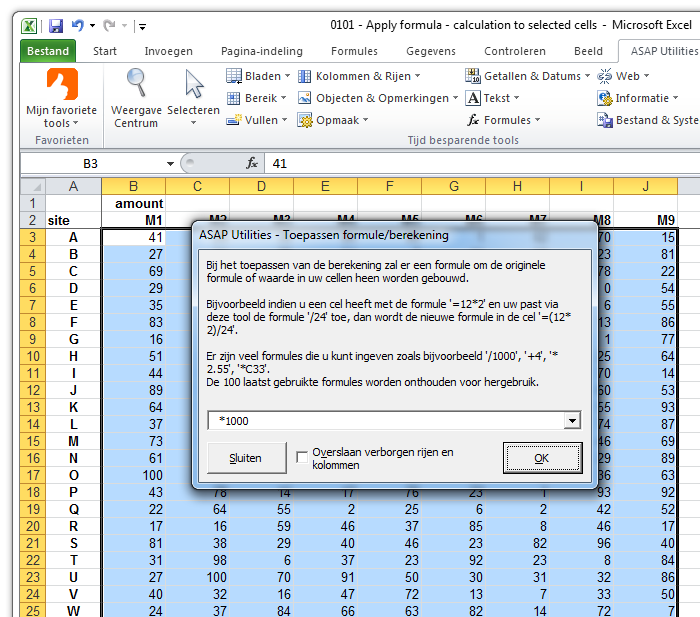 Voorbeeld screenshot: 2 Het resultaat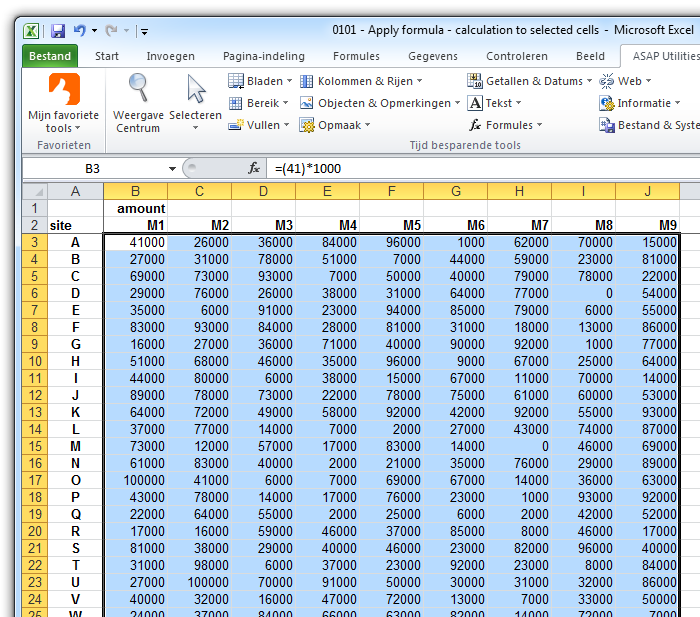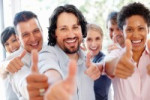 Practical tricks on how this can help you
Practical 'real world' examples on our blog that show you how this tool can help you in Excel. Enjoy!
Deze tool starten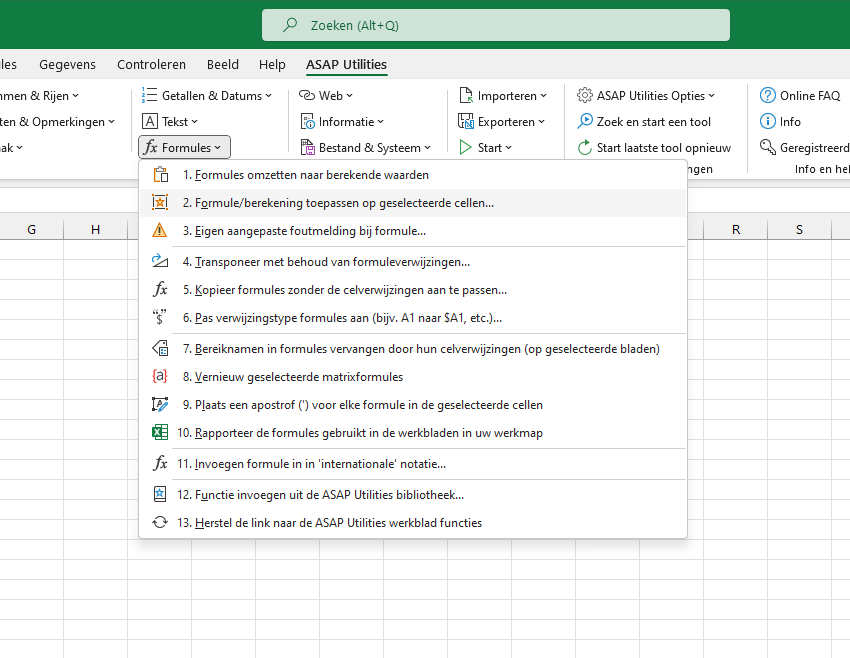 Additional keywords for this tool:
ineens, tegelijk, tegelijkertijd