Eigen aangepaste foutmelding bij formule...
English (us) ⁄ Nederlands ⁄ Deutsch ⁄ Español ⁄ Français ⁄ Português do Brasil ⁄ Italiano ⁄ Русский ⁄ 中文(简体) ⁄ 日本語

Formules › 3. Eigen aangepaste foutmelding bij formule...
Deze tool maakt het gemakkelijk om een aangepast foutmelding weer te geven bij formules die een foutwaarde produceren.
In plaats van een fout zoals #N/B of #WAARDE!, kunt u een eigen (meer logische) foutmelding weergeven wanneer de formule resulteert in een fout.
Bijvoorbeeld, indien u een =VERT.ZOEKEN() formule gebruikt, maar er wordt geen resultaat gevonden, dan zal de formule de waarde #N/B weergeven. U kunt deze tool gebruiken om Excel te vertellen wat het moet weergeven wanneer een formule in een fout resulteert, bijvoorbeeld om niets weer te geven (een leeg resultaat) wanneer er geen resultaat is gevonden of een gebruiksvriendelijke melding zoals "land niet gevonden".

Deze tool bouwt een =ALS(ISFOUT(oude_formule);[waarde bij fout];oude_formule) formule om de bestaande formules. U kunt dit ook handmatig doen, maar het is makkelijker en sneller met de hulp vanASAP Utilities.

Deze tool heeft twee voordelen ten opzichte van het handmatig schrijven van de =ALS(ISFOUT()) formule:
1. Het is eenvoudig en sneller omdat u de formule niet hoeft in te typen.
2. U kunt deze tool ook gebruiken om een bereik cellen met verschillende formules.
Screenshots
Voorbeeld screenshot: Eigen aangepaste foutmelding bij formules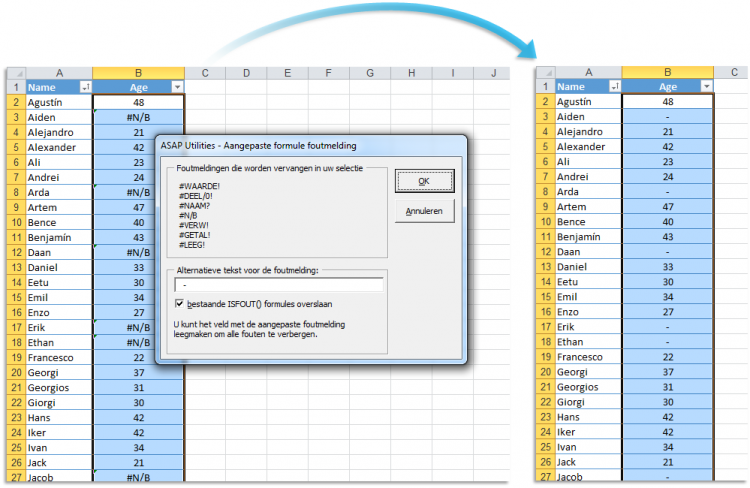 Deze tool starten