Maak een lijst van de bestandsnamen en kenmerken uit een map...
English (us) ⁄ Nederlands ⁄ Deutsch ⁄ Español ⁄ Français ⁄ Português do Brasil ⁄ Italiano ⁄ Русский ⁄ 中文(简体) ⁄ 日本語

Importeren › 11. Maak een lijst van de bestandsnamen en kenmerken uit een map...
Deze tool maakt een lijst met alle bestandsnamen in een opgegeven map.
Op deze manier kunt u bijvoorbeeld op een werkblad de namen importeren van alle bestanden op een cd-rom.

U kunt de volgende opties instellen:

De te doorzoeken map

Zoek ook in submappen

Maak een hyperlink naar de bestanden.

Toon alleen bepaalde bestandstypen. Om bijvoorbeeld alleen Excel bestanden te rapporteren kunt u '*.xl*' opgeven.

Sorteer het resultaat, bijvoorbeeld op bestandsnaam, mapnaam, datum, etc.

Toon alleen bestanden die zijn gewijzigd of gemaakt de afgelopen opgegeven aantal dagen.

Maak de lijst met bestanden in een nieuwe werkmap of op een nieuw werkblad in uw huidige werkmap.

Deze tool rapporteert de volgende informatie van de bestanden:

Bovenliggende Map

Bestandsnaam

Grootte (KB)

Type

Gemaakt op (datum)

Laatst geopend op (datum)

Gewijzigd op (datum)

Volledige naam (mapnaam en bestandsnaam samen)

Standaard kunt u deze tool starten met de sneltoets Control+Alt+F.
Uw laatst gebruikte instellingen worden onthouden.
Screenshots
Voorbeeld screenshot: 1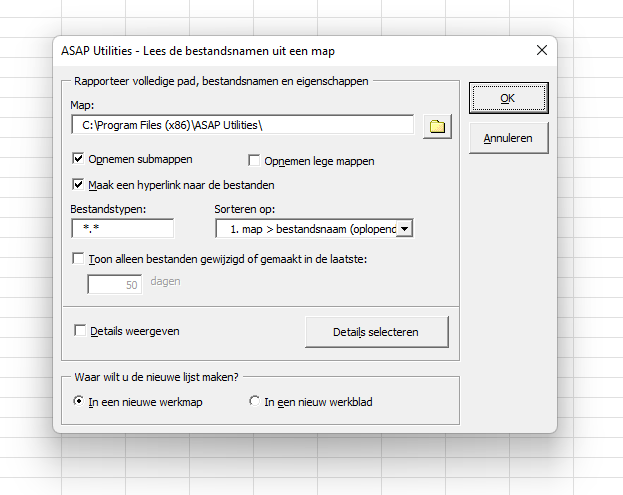 Voorbeeld screenshot: 2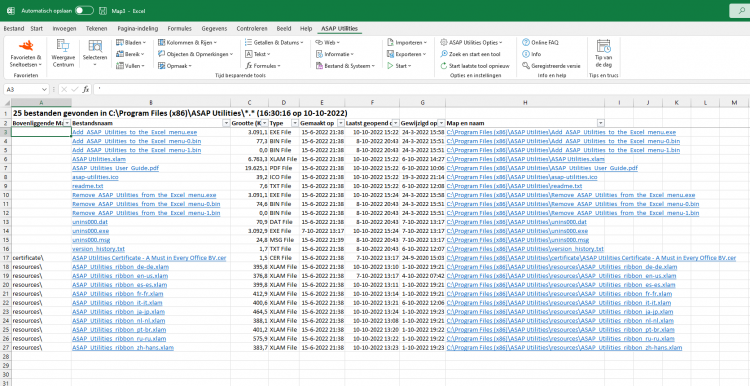 Deze tool starten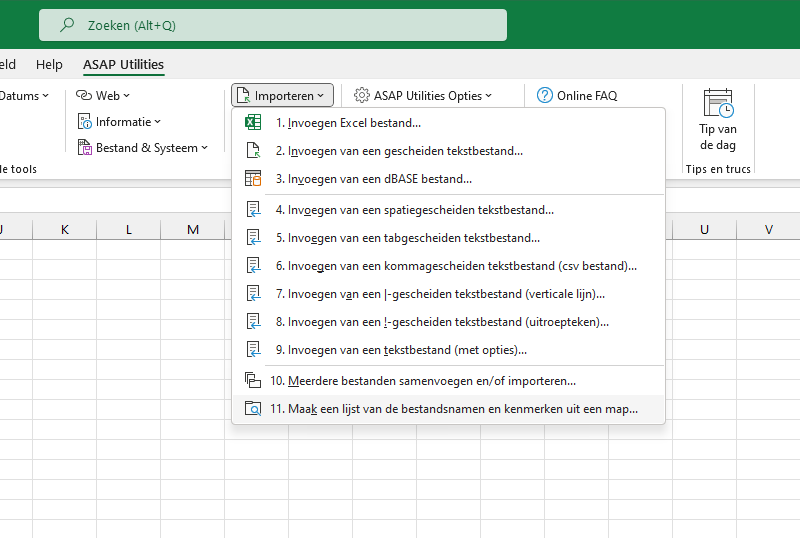 Additional keywords for this tool:
directory, mappenlijst, importeren lijst met bestanden, inlezen map, inlezen lijst bestandsnamen vanuit de verkenner, windows verkenner