Meerdere bestanden samenvoegen en/of importeren...
English (us) ⁄ Nederlands ⁄ Deutsch ⁄ Español ⁄ Français ⁄ Português do Brasil ⁄ Italiano ⁄ Русский ⁄ 中文(简体) ⁄ 日本語

Importeren › 10. Meerdere bestanden samenvoegen en/of importeren...
Deze tool voegt meerdere bestanden uit een map samen tot één nieuw bestand. U kunt het ook gebruiken om meerdere bestanden in één keer te importeren in uw werkmap.

Excel heeft geen ingebouwde mogelijkheid om bestanden samen te voegen. Het kan daarom tijdrovend en frustrerend zijn indien u bijvoorbeeld 200 Excel of CSV bestanden moet importeren of samenvoegen. Gelukkig kunt u ASAP Utilities gebruiken om dit snel en eenvoudig te doen.

U kunt de volgende opties instellen:

Start de import vanaf een bepaalde rij, met de mogelijkheid om een uitzondering te maken voor het eerste bestand. Dit kan handig zijn indien u bestanden met veldnamen heeft en de slechts één keer wilt vermelden.

Importeer de bestanden in uw huidige werkmap of een nieuwe werkmap.

Maak een nieuw werkblad of elk bestand of voeg de gegevens samen op één nieuw werkblad. Bij deze tweede optie worden de gegevens van de bestanden onder elkaar geplaatst.

U kunt de volgende bestandstypen importeren/samenvoegen:

CSV, komma gescheiden

Tekst, spatie gescheiden

Tekst, tab gescheiden

Tekst, verticale lijn (|) gescheiden

Tekst, puntkomma (;) gescheiden

Tekst, gescheiden door opgegeven teken

dBASE

Excel*

Lotus 123*

Quattro Pro*
* Alleen data van het actieve werkblad

Uw laatst gebruikte instellingen worden onthouden.
Screenshots
Voorbeeld screenshot: Importeren en of samenvoegen van meerdere bestanden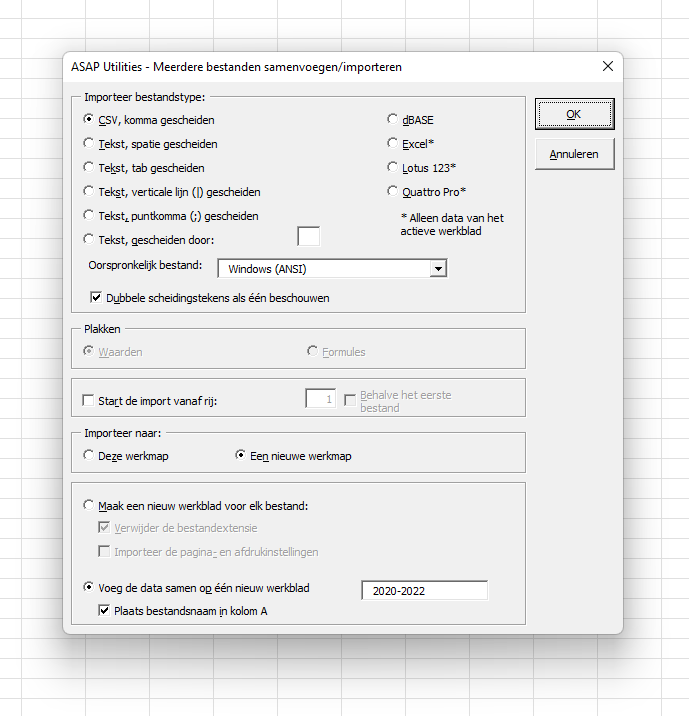 Deze tool starten