Kopieer de pagina- en afdrukinstellingen van een werkblad...
English (us) ⁄ Nederlands ⁄ Deutsch ⁄ Español ⁄ Français ⁄ Português do Brasil ⁄ Italiano ⁄ Русский ⁄ 中文(简体) ⁄ 日本語

Opmaak › 1. Kopieer de pagina- en afdrukinstellingen van een werkblad...
Met deze tool kunt u eenvoudig de pagina- en afdruk instellingen van een werkblad naar andere werkbladen kopiëren.

U kunt de volgende eigenschappen kopiëren:

Rijen bovenaan op elke pagina

Kolommen links op elke pagina

Afdrukbereik

Koptekst links

Koptekst rechts

Voettekst links

Voettekst midden

Voettekst rechts

Linkermarge

Rechtermarge

Koptekst midden

Bovenmarge

Ondermarge

Marge voor koptekst

Marge voor voettekst

Rij- en kolomkoppen

Rasterlijnen

Afdrukkwaliteit

Centreren op pagina horizontaal

Stand

Conceptkwaliteit

Papierformaat

Opmerkingen afdrukken

Paginanummering starten op pagina

Zwart-wit afdrukken

Volgorde

Zoom/schaal

Centreren op pagina verticaal

Aanpassen aan pagina

Opmerking:
De snelheid van deze tools kan wisselen, afhankelijke van het type printer(driver) dat op het moment van uitvoeren als standaard is ingesteld.
Vanaf Excel XP/2002 kunt u ook een afbeelding in de kop- of voettekst plaatsen. Helaas is dat iets dat niet kan worden gekopieerd naar andere werkbladen via een macro. Dus indien u een afbeelding in uw kop- of voettekst heeft dan kan deze niet worden gekopieerd met ASAP Utilities. Van de Microsoft website: "De enige manier om met afbeeldingen in kop- en voetteksten op meerdere werkbladen te werken is om alle werkbladen te selecteren en dan een afbeelding in te voegen via het Afbeelding invoegen dialoogvenster (klik op de Afbeelding invoegen knop), of de afbeelding op te maken door het Afbeelding opmaken dialoogvenster te gebruiken (klik op de Afbeelding opmaken knop). Het originele afbeelding bestand is nodig voor deze werkwijze."
Screenshots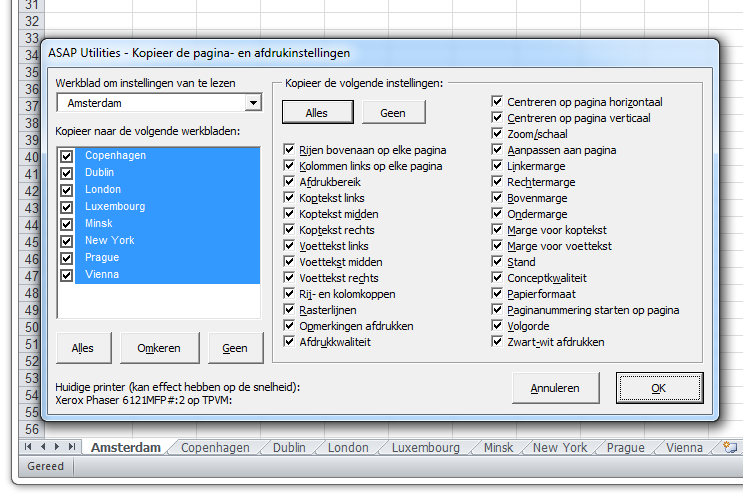 Deze tool starten