Bijschrijving van de Excel tools in ASAP Utilities

English (us) / Nederlands / Deutsch / Español / Français / Português do Brasil / Italiano / Русский / 中文(简体) / 日本語

Bladen » Voeg meerdere werkbladen in (gebruikt de cel waarden als blad namen)...
Deze tool voegt snel nieuwe werkbladen toe gebaseerd op de informatie in uw geselecteerde gegevensbereik.
Voor elke cel in uw selectie wordt een nieuw werkblad aangemaakt en de cel inhoud wordt gebruikt voor de naam van het nieuwe werkblad.
U kunt opgeven om een bepaald werkblad te gebruiken als bron/sjabloon blad. Op deze manier kunt u bijvoorbeeld eenvoudig 52 kopieën maken van dat werkblad.
Indien u Excel versie XP/2002 of recenter gebruikt dan kunt u ook opgeven dat de celkleur moet worden gebruikt als kleur voor de werkblad-tabs van de nieuwe werkbladen.

Gebruik:
1. Selecteer het bereik met de cellen die de namen bevatten voor de nieuwe werkbladen. (U kunt de "Snel een &reeks (nummers) invoeren in geselecteerde cellen" tool van ASAP Utilities, of Excel's ingebouwde "Vullen" tools gebruiken om u te helpen snel een lijst met namen te maken)
2. Start deze tool, stel de opties in, en een nieuw werkblad wordt aangemaakt voor elke en gebaseerd op elke cel in uw selectie.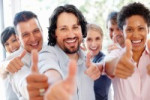 Practical tricks on how this can help you
Practical 'real world' examples on our blog that show you how this tool can help you in Excel. Enjoy!
Om deze tool te starten:
Kies in het Excel menu:

ASAP Utilities » Bladen » Voeg meerdere werkbladen in (gebruikt de cel waarden als blad namen)...


« Terug naar de lijst van "Bladen" tools.

Additional keywords for this tool:
kopieer werkblad