Close multiple files at once...
English (us) ⁄ Nederlands ⁄ Deutsch ⁄ Español ⁄ Français ⁄ Português do Brasil ⁄ Italiano ⁄ Русский ⁄ 中文(简体) ⁄ 日本語
File & System › 14. Close multiple files at once...
This utility makes it easier to close multiple files at once.
The utility shows a list of all open workbooks and you can choose which ones to close.

When you start the utility then by default all files except for the active workbook are selected to be closed.
You can set the utility give you a warning before a file is closed from which the changes haven't been saved yet. In such a case you can choose to save the file first before it is closed, not save the changes, or cancel the closing of it.

The utility is useful when you work with a lot of files that are opened in Excel and for example when you want to close all files, except for a few.
Screenshots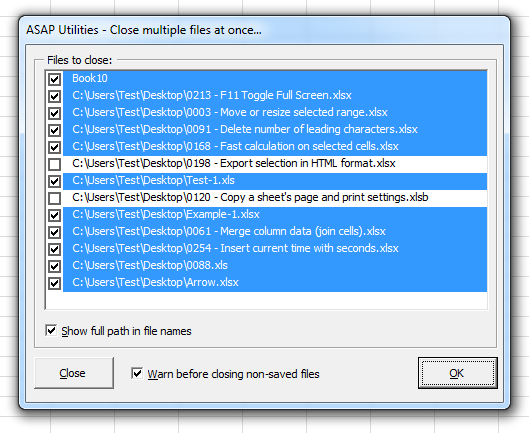 Starting this tool