Check for new version on the ASAP Utilities website
English (us) ⁄ Nederlands ⁄ Deutsch ⁄ Español ⁄ Français ⁄ Português do Brasil ⁄ Italiano ⁄ Русский ⁄ 中文(简体) ⁄ 日本語
ASAP Utilities Options › 10. Check for new version on the ASAP Utilities website
This utility will open our website (www.asap-utilities.com) in your default internet browser and shows you if there is a newer version of ASAP Utilities available.
If you want to be informed by email when a new version is released, you can subscribe to our newsletter:
https://www.asap-utilities.com/asap-utilities-newsletter.php

Note:
The website is in English.
This only works if you are connected to the Internet.
Screenshots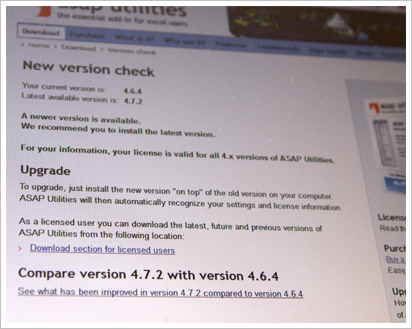 Starting this tool