Insert (delimited) text file...
English (us) ⁄ Nederlands ⁄ Deutsch ⁄ Español ⁄ Français ⁄ Português do Brasil ⁄ Italiano ⁄ Русский ⁄ 中文(简体) ⁄ 日本語
Import › 2. Insert (delimited) text file...
With this utility you can import a (delimited) text file into your worksheet at the position of your active cell.

You can configure the following settings:

How are the fields in the text file separated:
· space
· tab
· comma (csv)
· semicolon (;)
· pipe (|)
· exclamation mark (!)
· other: you can specify a custom delimiter
· not separated
· Text qualifier: none, ' or "
· Start import at row
· File origin

Date settings
· The utility uses the date settings as set in the Regional Settings in the Windows control panel.

Field settings
· Let Excel detect the field types (default)
· Treat all fields as text values (this can for example help when you have problems with leading zeros that are lost).

Settings used to recognize numeric data
· Decimal separator
· Thousand separator
· Trailing minus for negative numbers

Options
· AutoFit column widths
· Remove leading and trailing spaces

Your last used settings will be remembered.
Screenshots
Example screenshot: Import a delimited text file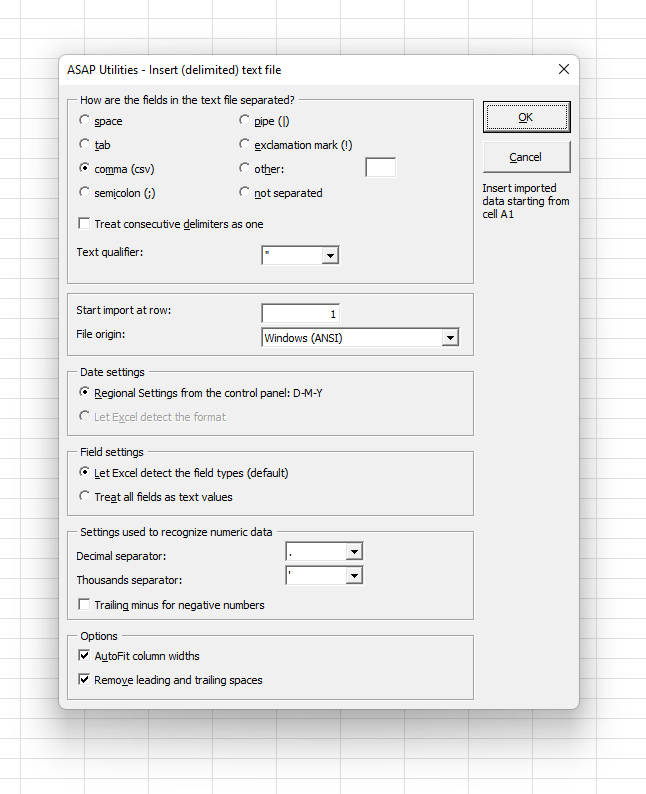 Starting this tool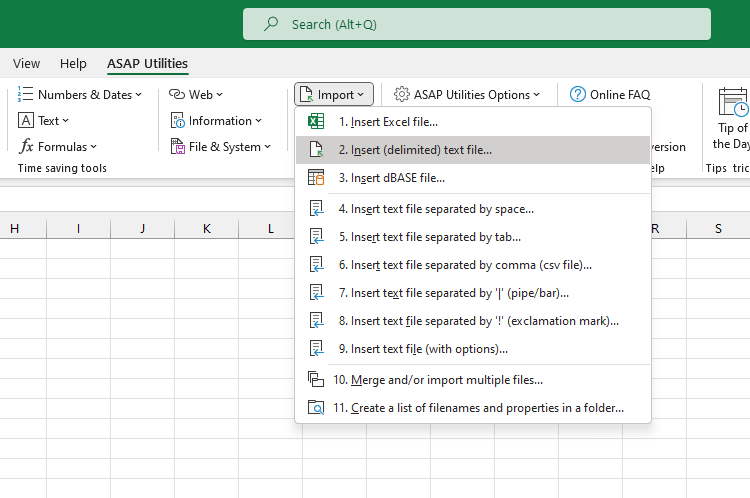 Additional keywords for this tool:
import, textfile